Fire Department Honor Guard
Posted: Thursday, August 29, 2019, 2:52 pm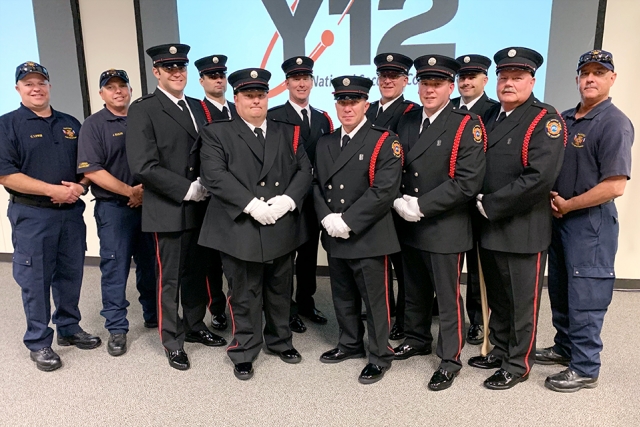 Pantex Honor Guard members Jeremy Baker (left), Chris Lewis (second from left), and Bobby Nash (far right) train the newly formed Y-12 Fire Department Honor Guard whose members include (starting third from left): Ben Norton, Doug Allen, Joe Herrell, Brandon Hitchcock, Lee Scofield, Jonathan Rood, Craig Shaver, Josh Bray and Bob Strunk.

Members of the Pantex Honor Guard visited Y-12 in June to train their fellow firefighters.
"We received approval to form an honor guard, and we decided who better to train us than our fellow coworkers," Assistant Chief Mari-Kaye Monday said. "Pantex's Honor Guard was established in 2011."
Three Pantex members conducted a week of training with the 10 members of the newly formed Y-12 Fire Department Honor Guard.
"We wanted to ensure we were ready to serve as a color guard or perform a variety of events, such as opening ceremonies, parades and funeral services for fallen fire and emergency services members," she said.
Monday said their team has worked for years to establish an honor guard within the Y-12 Fire Department. "It is the mission of the fire service honor guard to exemplify honor, respect, and dignity while embracing fire service tradition. We're continuing the pursuit of excellence by establishing the honor guard, and the Y-12 Fire Department is striving to exhibit pride, professionalism, and teamwork to represent CNS."
Watch this video to learn more.