"Analytical Chemistry…This is Sue."
Posted: Wednesday, June 20, 2018, 4:57 pm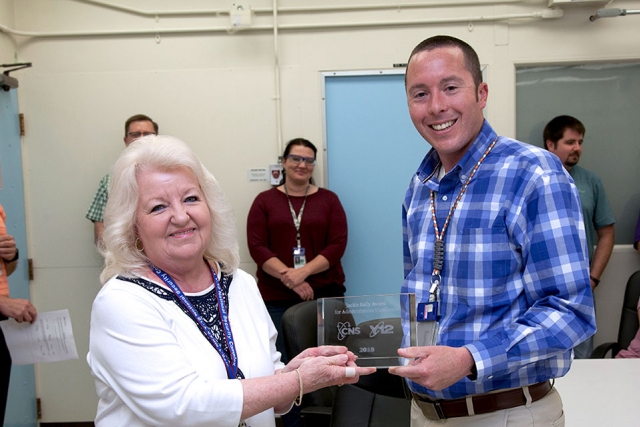 Sue Lankford, administrative assistant for Analytical Chemistry, accepts the Jackie Kelly Award for Administrative Excellence from Rob Kring.

"We all know her voice. We all know her smile. We all know her helpful ways." This was the opening line from one of two submissions nominating Sue Lankford, winner of the 2018 Jackie Kelly Award for Administrative Excellence.
In total, 23 administrative assistants from Pantex and Y-12 were nominated, and a five-person committee was tasked with ranking each nomination after all names had been removed. The nominees were evaluated on performance in five categories: dedication, conscientiousness, caring, can‑do attitude, and capability.
The Jackie Kelly Award began in 2017 as a way to appreciate and recognize administrative assistants. It also provides managers and supervisors with an opportunity to pause and appreciate the administrative assistants in their area. Pantex employees participated this year, and there were twice as many entries as last year. Quality's Kevin Corbett, who championed this recognition in honor of Jackie Kelly, his former assistant, said the quality of the nominations substantially improved from last year.
Lankford was recognized as the 2018 recipient at a surprise luncheon in her honor in Building 9995. Rob Kring, one of Lankford's nominators, said, "In her almost 35 years of service at Y‑12, Sue has worked tirelessly every day to ensure our jobs are easier and there are smiles on our faces. She possesses all the attributes that this honor aims to recognize."