CNS welcomes home 20th HonorAir Knoxville flight
Posted: Tuesday, May 24, 2016, 12:30 pm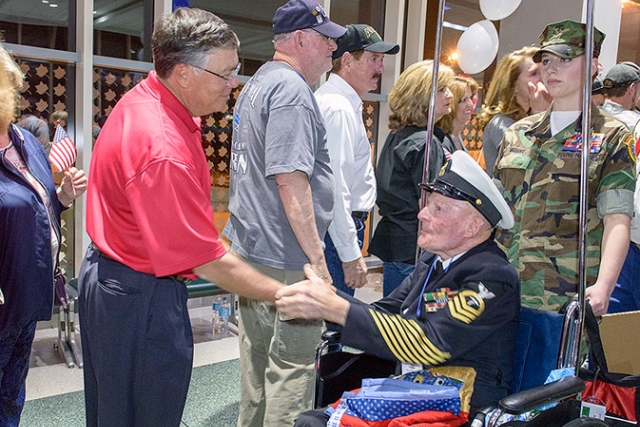 CNS's Gene Patterson welcomes home an East Tennessee veteran who participated in the 20th HonorAir Knoxville flight.

April 13, 2016, was another memorable day for HonorAir Knoxville as 125 war veterans traveled to Washington, D.C., to visit the memorials built to honor their sacrifices. The one-day trip represented the 20th flight for HonorAir, which has flown more than 2,600 East Tennessee veterans to our capital and back, with all expenses paid.
Hundreds of family members and supporters were on hand at McGhee Tyson Airport to greet the veterans who served in World War II, Korea and Vietnam. Among the World War II veterans was James Seal, who is 100 years old and the oldest veteran to have ever traveled with HonorAir.
A contingent from the Consolidated Nuclear Security, LLC Y-12 National Security Complex was in attendance as the flight returned. Y-12 has been greeting the returning veterans since 2011.
Linda Neal, who works in Business Management at Y-12, was there. "Greeting the HonorAir veterans is so meaningful to me because my father was in the Marine Corps for 27 years," she said. "Shaking hands and talking to these military men brought tears to my eyes because they reminded me so much of him." She added, "Having grown up on a military base, I saw how the men who served in Vietnam were treated by the civilians. It was awesome to see them finally get the welcome home they deserved."
Flight 20 consisted of 47 Vietnam veterans, 25 World War II veterans and 53 Korean War veterans. CNS has been a sponsor of the flights for several years.
Lisa Roberts, who works in Safeguards, Security, and Emergency Services, has celebrated the veterans' homecomings since 2014. Flight 20 was her fourth time to thank the veterans.
"I attend the HonorAir homecomings because it's a way to celebrate our veterans and a chance to thank them for their service," Roberts said. "I have family that served in Vietnam, my father fought in the Korean War, my Aunt served as a nurse in WWII, and my grandfather fought in the Spanish-American War. To me, it's a great way to honor my family who've served our country well. HonorAir is an awesome event and one that I'm very proud to be a part of."
HonorAir Knoxville is the brainchild of founder Eddie Mannis, president of Prestige Cleaners. The next scheduled flight is planned for fall 2016. In addition, the organization announced that, on June 8, it will take a flight of Vietnam veterans only on a special trip.