Y-12 employees partner with Junior Achievement for success
Posted: Wednesday, January 4, 2017, 3:23 pm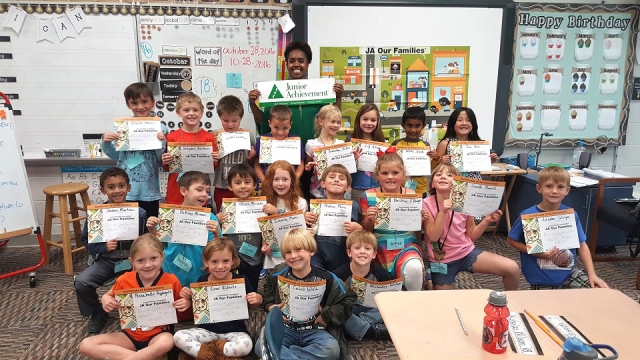 Continuing Y-12's longstanding relationship with Junior Achievement of East Tennessee, Cynethia Sims from Finance and Business Operations taught the five-week Our Families program to first graders.

Two members of Y-12's Finance and Business Operations recently found out how easy and satisfying being part of the Junior Achievement (JA) program can be to both the students and the instructor.
After attending an informational session about JA, Cynethia Sims was hesitant. Her trepidation soon turned to excitement as she taught the Our Families program to first graders. "I looked forward to being greeted by students eager to learn about how family members' jobs and businesses contribute to the well being of the family and neighborhood," Sims said.
JA excels at providing age-appropriate lessons for students, including games and exploratory activities. "The materials that JA provides you are excellent," said Y-12's Ashley Walker. "The students loved the lesson and were excited for my return each week." JA of East Tennessee provides instruction to seven counties with programs for kindergarteners through twelfth graders.
Y-12 has a longstanding relationship with JA and recently revamped its storefront at JA's Biz Town, a mini-city with a town square and 17 businesses. "JA's mission to inspire young people to succeed in a global economy perfectly aligns with Consolidated Nuclear Security's goal to strengthen our community. Our volunteers serve as mentors to guide these children in becoming valuable members of their communities," said Kristin Waldschlager, Y-12's community and education outreach coordinator.
If you'd like to know more about Junior Achievement in East Tennessee, check out their website at http://www.jaeasttennessee.org/.