Who's on FIRST? Inspiring STEM through robotics
Posted: Thursday, February 25, 2016, 3:57 pm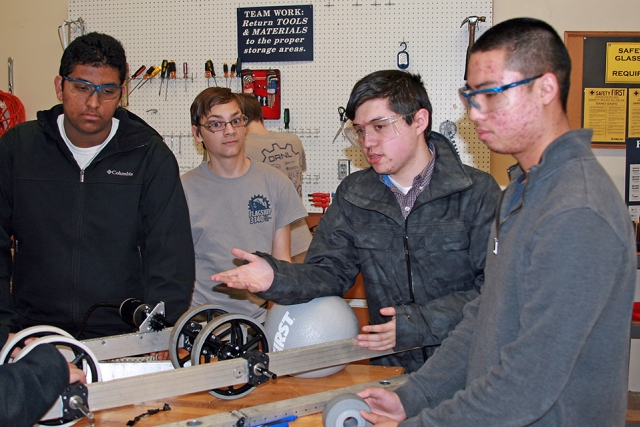 Students from Farragut High School work on their entry for the FIRST (For Inspiration & Recognition of Science & Technology) robotics competition.

Consolidated Nuclear Security, LLC plays an active role in strengthening the quality of FIRST (For Inspiration & Recognition of Science & Technology) robotics competitions for individual high school–aged teams in Tennessee and Texas that compete head to head on a special playing field with robots they have designed, built and programmed. FIRST was founded in 1989 to inspire students' interest and participation in science and technology.
CNS sponsors the Smoky Mountain Regional competition as well as individual teams at: Robertsville Middle; L & N STEM; and Austin East, Bearden, Bushland, Caprock, Farragut, Hardin Valley, Oak Ridge, Roane and Webb high schools.
In addition to the company's support, CNS engineers work as volunteer mentors on local teams to educate and support tomorrow's scientists, engineers and mathematicians. "This is exactly the type of activity CNS wants to support," said Keith Kitzke, a CNS engineer. "This is one of the best activities I have seen for developing team-building and problem-solving skills in high school students."
On January 8 inventor and FIRST founder Dean Kamen launched the 2016 season with the release of the FIRSTSTRONGHOLD competition. The game changes yearly, keeping the excitement fresh and giving each team a more level playing field. More than 75,000 high-school students representing more than 3,100 teams at 114 venues around the globe joined the FIRST Robotics 2016 Kickoff via live broadcast hosted by Comcast NBCUniversal. This season's FIRST competition involves alliances (with other schools) of robots on a quest to breach their opponents' fortifications, weaken towers and capture the opposing tower. "This competition will test the effectiveness of each robot, the power of collaboration and the determination of the students," said Jane Skinner, Farragut High School coach. "This program is important to our students and impacts each of them in valuable ways."
Marvin J., a student on the team, validated Skinner's statement. He said, "For me, FIRST has helped improve my knowledge all around. It has helped me better understand the influence of technology and engineering in everyday life." He also noted that participating in the competition expanded his knowledge regarding everyday tools and the importance of teamwork, which enhanced his collaborative skills.
FIRST robotics teams are in phase one, which is the six-week design and build phase of their team robot. Phase two of the robotics season involves seven weeks of competition in districts or regions. The Smoky Mountain Regional competition will take place at Knoxville's Thompson-Boling Arena March 30–April 2, 2016. The championships will take place in April.
For more information about the competition visit TNFIRST or firstinspires.org.