CNS sites offer gateways to exciting careers
Posted: Monday, May 22, 2023, 7:52 am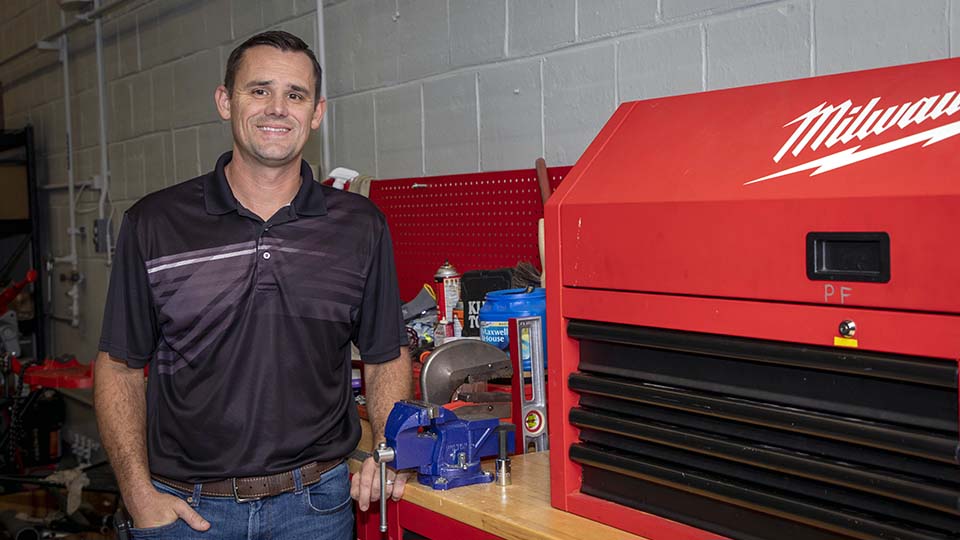 Jonathan Fleury, a section manager in Fabrication at Y-12, began his site tenure in an apprenticeship program, one gateway to a career at Pantex or Y-12.
Jonathan Fleury enjoys maintaining highly complex machines that craft material to exacting specifications. A section manager in Fabrication at Y 12 and a former Marine, Fleury has held various positions maintaining equipment at the site, where he appreciates a good challenge.
"I got out of the Marines and saw a newspaper ad. I applied for an apprenticeship program and was one of the first 50 people they hired," he said. "I'd never seen anything like this before."
The synergy of challenge and opportunity is alluring to many potential employees, explained Ricky Aiken, senior manager of Mission Systems and Integration at Y-12.
"With the advancements in technology, many industries are now relying on complex electrical systems that require skilled electricians to install, maintain, and repair them," he said. "The rise of electric cars and renewable energy sources has also increased the demand for electricians with specialized knowledge in these areas. This truly goes for all skilled tradespeople like pipefitters, outside machinists, machinists, and carpenters, which remain in demand. Pursuing a career in a skilled trade is a viable option for those looking for job security and a stable career path. You have a skill you're going to be able to use no matter where you go."
A Y-12 apprenticeship is just one gateway to a career at Consolidated Nuclear Security (CNS), which manages and operates Y-12 and the Pantex Plant in Amarillo, Texas. At Pantex, the AmTech Career Academy trains high school students who can then pursue a degree at nearby Amarillo College before finally applying what they learned in the Pantex workforce.
The partnership between Pantex and AmTech positions students as future production technicians, according to Zuleyma Carruba Rogel, a Pantex recruiter.
"If a student has that program credential, they qualify to test here," she explained. "From there, it's really where their talent takes them."
The partnership is part of a long-term strategy, and Carruba-Rogel and her peers recognize the potential promise the collaboration holds for CNS, which gains a better-prepared future workforce, and the students themselves.
"Some of these students can graduate … out earning their parents," she said.
Aiken agreed the opportunities are many for potential employee and company alike.
"Recruiting and training the next generation for skilled trades positions is beneficial for both the individual and the industry. Training young people for skilled trades jobs is essential for addressing the skills gap that exists in many industries. Many skilled trades jobs require specialized training and knowledge that is not easily transferable," Aiken said. "By recruiting and training the next generation, Y-12 can ensure that we have a skilled workforce that can meet our country's mission needs, both now and in the future."
Dave Thomas, a high explosives manufacturing supervisor at Pantex, appreciates the benefit of workers who bring a higher degree of skill from their first day on the job.
"Our mission to assemble and test the nation's nuclear deterrent demands that we seek out and retain only the finest men and women within the manufacturing world, whether it be for formulation, machining, or direct assembly," Thomas said.
Part of that demand for the best and brightest is in hiring those who know the latest in technology.
"Since technology is changing on a daily basis, we have a responsibility to stay on top of the job market and bring those folks into our family," Thomas said.
Apprenticeship programs are not just for new employees, either.
"By offering training programs and career-development opportunities, Y-12 can retain valuable employees and help them achieve their career goal. Providing opportunities for career development and advancement can also improve employee morale and job satisfaction," Aiken said. "When employees feel that their employer is invested in their success and growth, they are more likely to feel satisfied with their job and be motivated to perform well."