Building virtual connections, saving real money
Posted: Monday, August 29, 2016, 10:34 am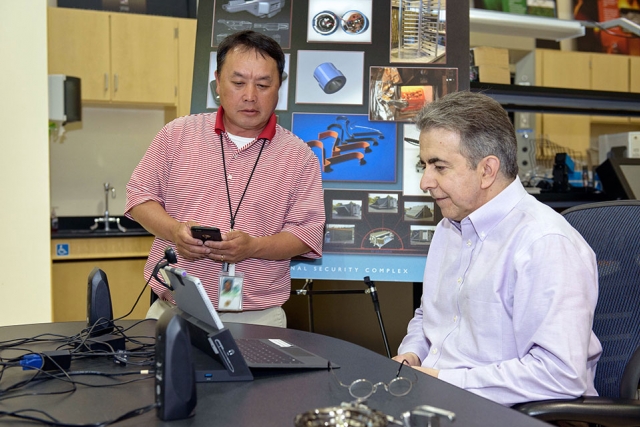 Kia Moua (left) and Lee Bzorgi prepare for a video teleconference with aspiring roboticists at Northern Kentucky University.

Y-12 is talking robotics with college students a state away.
Through video teleconferencing, Y‑12 is using its people and technological capabilities to reach out and (almost) touch aspiring roboticists at Northern Kentucky University, located just south of Cincinnati.
Because of his career-long experience as an inventor, Lee Bzorgi of Mission Engineering conducted a WebEx™ meeting with a business informatics class that's fashioning an arm to enhance a robot that'll assist the Newport, Kentucky, police SWAT team. This topic is right down Bzorgi's alley. He's been problem solving and inventing security gadgets at Y‑12 since 2001. Robots were his first love, though, building his first at age 10 and then publishing the design soon after.
"During my first four years out of college, I worked in robotics at Bechtel, and over the following 26 years, I've consistently applied that background knowledge to project after project," said Bzorgi, whose initial professional trial was to construct a robot for radioactive contamination cleanup following the 1979 Three Mile Island meltdown. "It was my first engineering job. All the Bechtel executives were 50+, so I grew a moustache to look older!" That job set the course for Bzorgi's career.
NKU instructor Steve Hinkel is a tinkerer with a computer science and business background, so robotics is a natural fit for his varied interests. "Business informatics focuses on ways to integrate technology into business operations, and Lee was absolutely brilliant with my students, offering a presentation, explaining some of his inventions and showing real-world examples of technologies being applied," Hinkel said. "He also sparked an excellent post-presentation discussion; the students were extremely engaged. Lee is truly remarkable, and we were fortunate to have him as a guest speaker—the best we've ever had."
"This kind of collaboration shows Consolidated Nuclear Security's depth and breadth of capability and willing service to the nation—from the college campus to our industry partners," Tom Berg of Program Integration said. "Our partnerships often are the pipeline for students who find a specific area of interest, like robotics, and then join the workforce down the road."
Because Y‑12 is usually all about keeping information inside the fence and security (physical to cyber) is exceptionally tight, setting up a video teleconference didn't happen in a snap. Program Integration's Kia Moua worked internally with Information Solutions & Services to pave the way for this and future collaborations with external partners. "Having the capability to handle live streaming outside the Y‑12 firewall, using commercial software such as Skype™ or WebEx, to communicate with external industry partners provides significant cost savings. Imagine not having to travel and being able to sit in your office while receiving live feedback from your audience," said Moua.
"From investments in high-end Cisco™ Telepresence to desktop conferencing with Microsoft® Lync™ between Pantex and Y-12 to slowly opening secure collaboration capabilities to external partners, Consolidated Nuclear Security continues to find ways to collaborate that are appropriate for our national security environment and that enable significant efficiencies in operations with our partners," said Travis Howerton, senior director for Enterprise Architecture and Strategy.
Using today's technology, CNS continues to build partnerships, share its unique expertise, save money and work more efficiently.
To learn more about Bzorgi's inventions, visit the National Security Technology Center website.