Run VMC 5K
Posted: Wednesday, January 13, 2016, 4:40 pm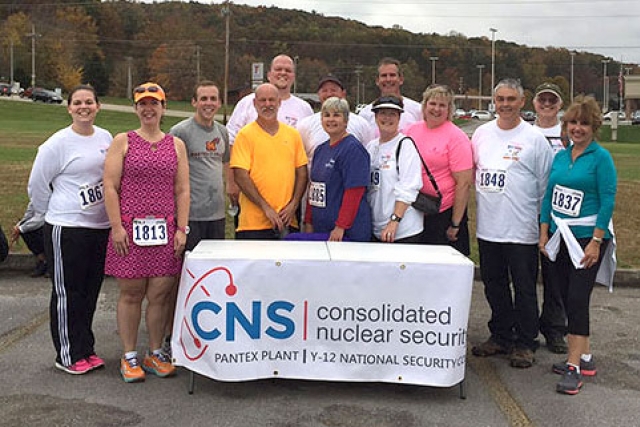 Y-12's team for the Volunteer Ministry Center 5K.

Run VMC is not a new rap group, but the 5K to benefit the Volunteer Ministry Center is a wrap.
Y-12's team consisted of more than 20 employees and retirees. The race began and ended at Hardin Valley Elementary, and several team members received accolades. Travis Wilson from Mission Support/Infrastructure was the overall winner with a time of 16:48. Other team members who finished in the top 20 included Tom Berg of Technology Development/Transfer, Jeff Bock of Mission Assurance/Quality, who also won in his age group, and Chris Gilliam of Mission Engineering.
VMC is a Knoxville-based interfaith agency that was founded in 1987. The agency's mission is to facilitate permanent supportive housing for those who are homeless and to provide services to prevent homelessness.
The center helped 87 people get into permanent housing last year, and 34 of those were chronically homeless. VMC also helped more than 700 individuals/families remain in their homes last year and provided dental care for more than 1,000 patients through the dental clinic.
Y-12 employees and retirees have a long-standing relationship with VMC and support the center by volunteering time and donating supplies.
The team included Kevin Alexander, Temitope Asemota, Vicki Belt, Tom Berg, Jeff Bock, Peggy Campbell, Linda Cantrell, Leslie Daugherty, Doug Davies, Karen Dixon, Mo Dixon, Jay Everett, Chris Gilliam, Justin King, Kathryn King, Rob Kring, Rikki Martz, Diane McDaniel, Mari Kaye Monday, Karen Smith, Harold Waddle, Elain Warren and Travis Wilson.