Supporting innovative education in local schools
Posted: Tuesday, October 4, 2016, 9:21 am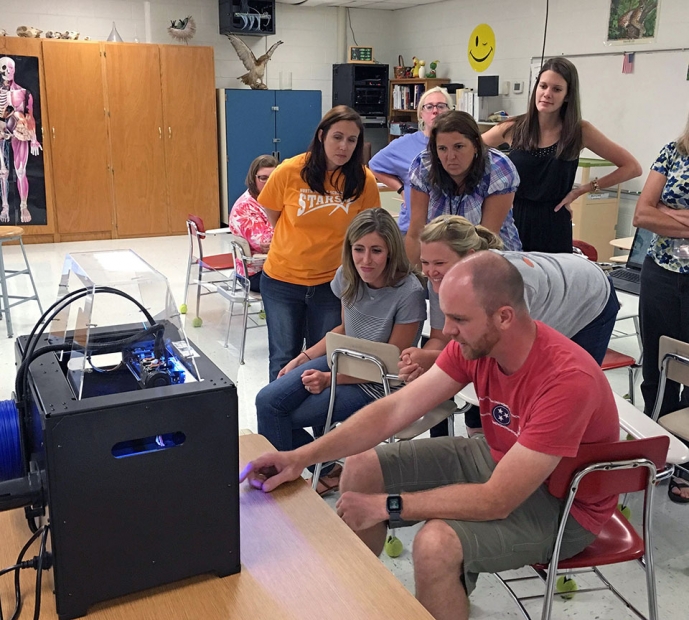 Ben Green engages with North Middle School teachers helping equip them with emerging technologies in the classroom.

When young people are presented with a new technological device, they typically light up with excitement. It is like a toy that can be used to create, design, explore and understand things. Technology is a valuable teaching tool where learning seems more like fun than work.
Consolidated Nuclear Security's (CNS's) Ben Green of Technology Development and Mike Malone of Production are inspiring young people while helping equip school teachers with emerging technologies. At North Middle School in Lenoir City and Robertsville Middle School in Oak Ridge, the investment sparks students' interest in fields vital to the mission at Y-12 National Security Complex (Y-12) and other high‑tech careers.
At North Middle, Green and Malone assembled a new 3‑D printer for the STEM (science, technology, engineering and mathematics) class and offered a tutorial on its operation to 14 STEM instructors and other teachers from the school.
Mike Malone explained, "3‑D printers provide a new medium for instruction. Anything normally drawn on a dry erase board can now be visualized with a model that students design and create themselves. Exposing students to this technology is vital because 3‑D design and printing have emerged as important tools in engineering and manufacturing. Offering training to the school teachers on this technology is a win‑win for the entire school."
CNS is also helping with 3‑D printing at Robertsville Middle. STEM teacher Todd Livesay offers students an education extension program with a team of National Aeronautics and Space Administration (NASA¬) engineers and managers at the Marshall Space Flight Center in Huntsville, Alabama.
The students have developed conceptual ideas for a CubeSat — a small satellite launched from larger spacecraft in orbit. They presented their ideas and proposals to a team of NASA engineers and managers.
Next, students will engage in the processes of design, fabrication, assembly, launch and delivery of a fully launchable satellite that will be rocketed from Cape Canaveral. To do that, the students need a 3‑D printer, so CNS stepped in and is providing one to allow the students to manufacture their own designs for the CubeSat.
"By providing this technology and expertise to students and educators, CNS is helping facilitate STEM education, which CNS hopes, in turn, produces the next generation of employees," said Kristin Waldschlager, Y-12 Education Outreach lead.