Technology Transfer Office provides unique experience for UT law students
Posted: Wednesday, January 5, 2022, 8:21 am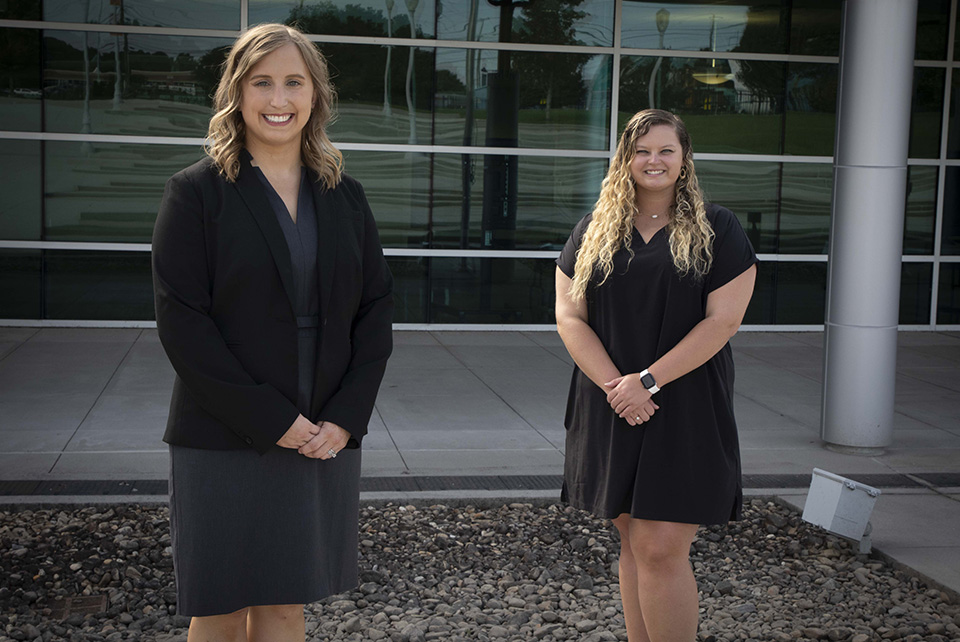 From left: Caitlin Hoch Nussbaum and Tori Smith are two of the University of Tennessee College of Law students who have been interning at Y-12.
For the past several years, the Technology Transfer Office has partnered with the University of Tennessee College of Law to give law students a unique opportunity to work with Y-12. The partnership is two fold — to help UT law students gain useful experience working in government contracting and intellectual property and to enhance the work of the Technology Transfer Office.
The partnership has been a huge success thus far, and its impact is highlighted in the overall efforts of Technology Transfer.
"Our relationship with the University of Tennessee College of Law is vital to the successful execution of the CNS Technology Transfer mission," said Ashley Stowe, who leads the University Partnerships Programs and oversees the law interns for the Technology Transfer Office at Y-12.
The legal students work with inventors, research prior art, and conduct market surveys that enable Y-12 to translate new ideas into patentable language to support the best embodiment for submission to the patent office. They also inform Technology Transfer's decision makers on which disclosures to pursue and help guide the marketing and commercialization strategy.
Stowe also notes that the program focuses on the strengths and interests of each individual during their time in the program.
"We leverage the students' undergraduate discipline — whether it be an engineering discipline or business degree — to garner their enthusiasm in a particular area and maximize their intern experience," said Stowe.
Caitlin Hoch Nussbaum is wrapping up her legal internship with Technology Transfer. Already an environmental engineer with more than 12 years of experience working with the U.S. Army Corps of Engineers, she took an interest in patent and intellectual property law.
Upon joining the team in May 2021, she immediately jumped in and began working on projects. Hoch Nussbaum has enjoyed being able to make an impact with her work, while also showcasing skills that will help in her future career endeavors.
"Being able to work on a variety of projects — patent searches, market surveys, contracts, research prior art, office council reviews — has been such an incredible experience," Hoch Nussbaum said. "I've had the opportunity to make recommendations on contract changes and see them actually be put into place."
The Technology Transfer team makes an effort to ensure all interns receive real world experience that will extend beyond their internship experience and throughout their careers. For Hoch Nussbaum, this has helped solidify her aspirations to continue a career in intellectual property law.
"I've been able to see how an initial idea translates into application and have a hand in each part of the process," said Hoch Nussbaum. "Gaining experience in this field and being a small part in helping bolster their intellectual property portfolio and hopefully bringing in more business opportunities for Y-12 — it has been a remarkable experience."
George Kuney, professor of law and director of the Clayton Center for Entrepreneurial Law at UT, sees the value in this program for his students each and every year.
"This program exposes our students to real world, high tech law and business issues while also exposing them to compliance regimes that cannot be duplicated in the classroom," Kuney said. "Every single student that has gone through the program has commented on the depth and breadth of knowledge gained in this immersive experience."
The value and impact, both for Y-12 and UT, proves to be invaluable as this program continues to grow. The Technology Transfer Office welcomed an additional law intern, Tori Smith, for the fall semester. She completed her internship in December. Smith received her undergraduate degree in supply chain management, and she's particularly interested in copyright law. She saw this as an opportunity to learn and grow in the field she wants to pursue.
"It's real world experience and exceptionally valuable," Smith said. "I would highly recommend it to any law student."