Seven decades, three women, one mission
Posted: Wednesday, October 6, 2021, 7:46 am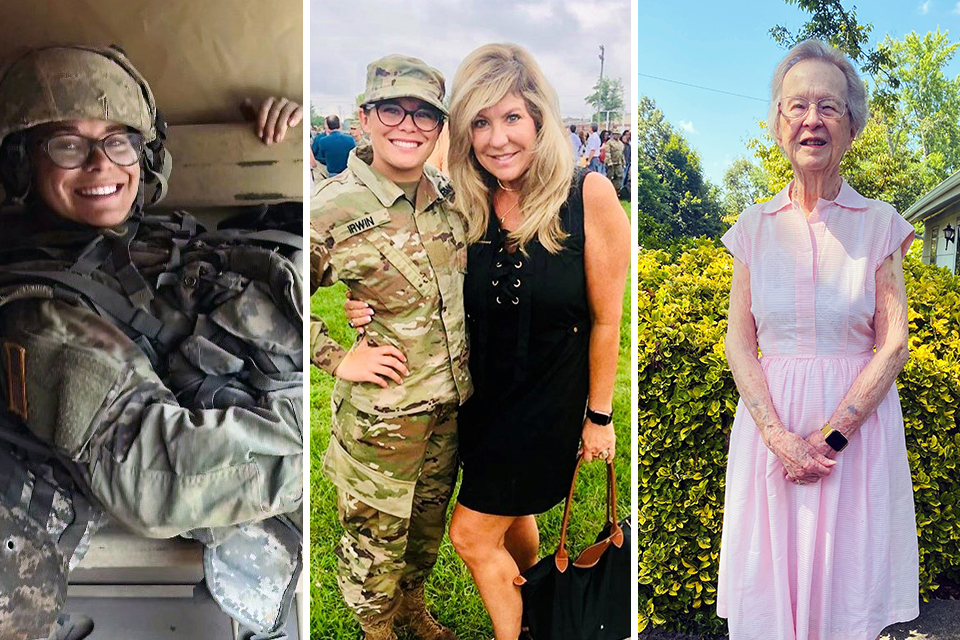 Three generations of the Irwin women have served in the Secret City. From left: Tessa Irwin, Tessa and Eva, and Velva Rhodes Irwin.
Editor's note: This article describes the experience of three generations of women working at Y-12, spanning from 1944 to today. It was written by Tessa Irwin of Y-12 Communications, who is also depicted in the last entry. She based it on interviews with her mother and grandmother, as well as her own impressions.
August 1944, Velva Rhodes
Velva Rhodes Irwin was 16 years old. At 5 a.m. on a muggy August day, she wore a pale pink dress and her hair was in loose curls as she stood among other young women outside a grocery store in Gibbs, Tennessee. An old army bus rolled up and the women began to file on to start their 45-minute commute to Oak Ridge, which would later be known as the Secret City.
"Secret it was," Velva, now 93, said.
The bus ride was quiet, too early for conversation. Once they arrived, Velva walked briskly to the only building she was required, or allowed, to be in: the Administration Building. She would work there as an audit clerk from 6 a.m. to 6 p.m. and earn $1,450 a year.
"My job duties as a clerk consisted of many things," she said. "I verified payroll additions and extensions, as well as verifying schedules and examining invoices to ensure they were all correct."
Although Velva excelled at her job, she never knew what type of business the company conducted.
"I had no idea what we were working on," Velva said. "I thought I was working with people doing construction around the area, but I was alarmed as armed soldiers were everywhere. I knew something more had to be going on, but I didn't ask questions."
Day after day for more than a year, Velva repeated the same 14-hour routine. She woke up before dawn, put on a dress, hopped on the army bus, and worked 12-hour days.
Until one day things took an earth-shaking, historic turn.
"It was August 6, 1945," she recalled. "It was like any other day. I arrived to work and began to look at the paperwork for the day and then … it happened. There was a loud alarm that signaled our attention, followed by an announcement that the United States had dropped its first atomic bomb, known as Little Boy, on Hiroshima, Japan. They also announced for the first time that each of us played a role in it, even as an auditor. Everyone was sent home early that day and to us, that meant, the war was finally over."
As some of the secrets came to light from inside the Secret City, Velva finally knew what her true mission was and that she worked for something which had much greater impact than simply "construction."
She worked for the Army Corps of Engineers and was part of a historic and war ending endeavor, the Manhattan Project.
More than seven decades later, she can still wear the pale pink dress she wore while she waited for the old army bus to round the corner.
September 1989, Eva Irwin
Madonna was playing on the radio as 24-year-old, Eva Irwin, with big earrings and even bigger blonde hair, drove to her first day of work as a secretary at the K-25 site in the Secret City.
Like Velva 45 years before, Eva felt hesitant and intimidated as she made her commute. She didn't ride an old army bus with other women, but arriving alone was in some ways scarier.
]
"I was nervous and didn't know where I was going," Eva said. "I tried to drive through the gate and encountered a security police officer who told me I couldn't enter, so I turned around and went back home," she laughed as she relived the moment. "The next day I had worked up enough courage to find the right gate and now, I have been passing through the gates and have driven past that blue line for over 30 years."
America had changed in the decades since Velva's tenure, and Eva enjoyed more work equality and opportunity. Like Velva, she began her career as a secretary, but through decades of hard work and dedication, she excelled and advanced. She now serves as the U.S.-U.K. program director.
"Things have really changed over time, especially for women in the workplace in the last 30 years," she said. "Women have greater access to education and it has become a commonplace for them to graduate with degrees in engineering and scientific programs historically obtained by men. There is more equitable pay and more job opportunities for women."
As she reflects on the impacts of women and their accomplishments throughout the decades, she thinks about how the mission at Y-12 is what ultimately keeps everyone moving forward in unity.
"The mission has always been to support the nuclear program," she said.
"With the end of the Cold War, Y-12's mission focus changed from weapons production to weapons reduction and disassembly, as well as, performing stockpile surveillance and maintenance," she said. "Over the past 20 years, the focus expanded to more environmental protection and modernization through demolishing many of the WWII era facilities."
Irwin believes the importance of Pantex and Y-12's mission imparts an enhanced sense of patriotism in those who work at the sites.
Eva is still a Y-12 employee, and while her hair might not be quite as big, her goals, work ethic, and patriotism still are.
July 2021, Tessa Irwin
I'm wearing a mask as I sit on the back porch of my grandparents' house. I have a sweet tea in one hand and pen and paper in the other. I'm sitting six feet from my grandmother, Velva Rhodes Irwin, and my mother, Eva Irwin, as they share their work experiences.
Hearing my mother and grandmother discuss the evolution of women in the workforce over the past seven decades is eye opening and compelling for me, a 25 year old Second Lieutenant in the United States Army and newly hired subcontractor at CNS. I am proud to be the third generation in my family who is contributing to the national security mission in Oak Ridge. One thing that has not changed is the critical national security role that Pantexans and Y-12ers play in order to support our core mission to ensure a safe, secure, and reliable U.S. nuclear deterrent.
Our stories reveal more than the experiences of generations before me; they also describe how far we have come as a country.