Hear ye! Hear ye! Y-12 Proclamations celebrate 75th Anniversary
Posted: Wednesday, July 18, 2018, 10:05 am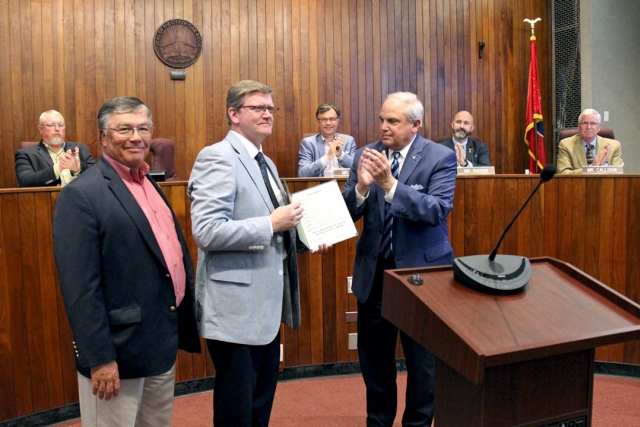 Gene Patterson and CNS Vice President and Y-12 Site Manager Bill Tindal accept an Oak Ridge City Council proclamation from Mayor Warren Gooch.

Y-12's 75th Anniversary recently received some significant attention close to home and in Washington, D.C.
Rep. Chuck Fleischmann (R-TN), whose district includes Y-12, recognized Y-12 June 8, in the nation's capital, and at a recent Oak Ridge City Council session, a proclamation was read for Y-12.
Fleischmann recognized Y-12's 75th anniversary in the June 8 edition of the Congressional Record and a flag was flown over the U.S. Capitol in honor of the occasion.
"Seventy five years ago, the men and women of the Y-12 plant worked tirelessly to protect our national interests and help us win World War II …," Fleischmann said. "The 75th anniversary of the Y-12 National Security Complex is an occasion to reflect on this proud history and celebrate the people of the complex for their contributions."
A proclamation recognizing Y-12's 75th anniversary was unanimously passed by the Oak Ridge City Council in May. Oak Ridge Mayor Warren Gooch presented a copy of the proclamation to Y-12 Site Manager Bill Tindal and Gene Patterson of CNS Communications.
"As a Y-12 employee, I can say with confidence that we are proud to carry on the heritage of making the world a safer place, and our dedication to securing the nation's future is unwavering," Tindal told the audience and council members.
In April, Lt. Governor Randy McNally sponsored a state proclamation along with State Senator Ken Yager and State Representative Richard Briggs, honoring the 75 year history of Y-12 and its current mission.
Anderson County Mayor Terry Frank and members of the Anderson County Commission also celebrated Y-12's 75th anniversary in March with a proclamation of appreciation that highlighted Y-12's history and importance to Anderson County and the region.