Blount Partnership tours Y-12
Posted: Monday, July 25, 2016, 5:26 pm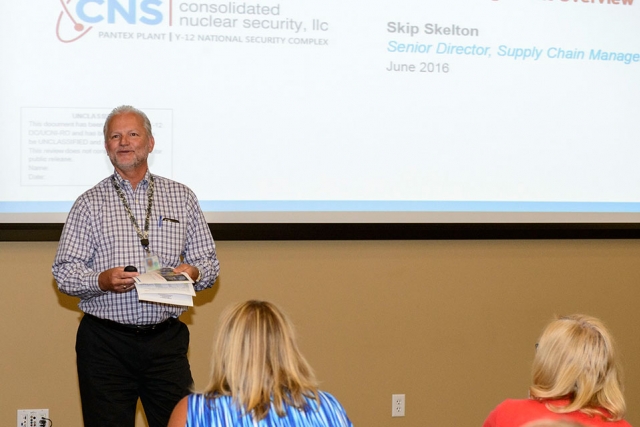 CNS Supply Chain Manager Skip Skelton addresses Blount Partnership members at New Hope Center.

Members of the Blount Partnership Chamber of Commerce toured the Y-12 National Security Complex. For most, it was their first time on the site.
"What a great opportunity for our Chamber VIP members to learn about and see the Y-12 property," said Tammi Ford, vice president of the Blount Partnership.
The tour, which was attended by 27 business men and women, was sponsored by CNS and the Blount Partnership. As part of their visit, the members also received information on how they might do business at Y-12.
CNS Vice President for Operations Support Darrell Graddy told the VIPs about the enduring importance of Y-12's national security mission and how local business can help and profit.
"The opportunities for small business are enormous," Graddy said to the group.
The VIPs also heard from CNS Director of Supply Chain Management Skip Skelton and Uranium Processing Facility Acquisition Services Manager Rich Brown. Skelton talked about how to do business with CNS and Y-12; and Brown discussed the business opportunities surrounding the $6.5-billion UPF project.
"We were enlightened on the history, the future plans of the site and the opportunities available for small business," said Ford. "It was a great relationship building event and our hope is to do an expanded tour in the future."