Y-12 Fire Department up to HAZMAT challenge
Posted: Thursday, November 3, 2022, 4:16 pm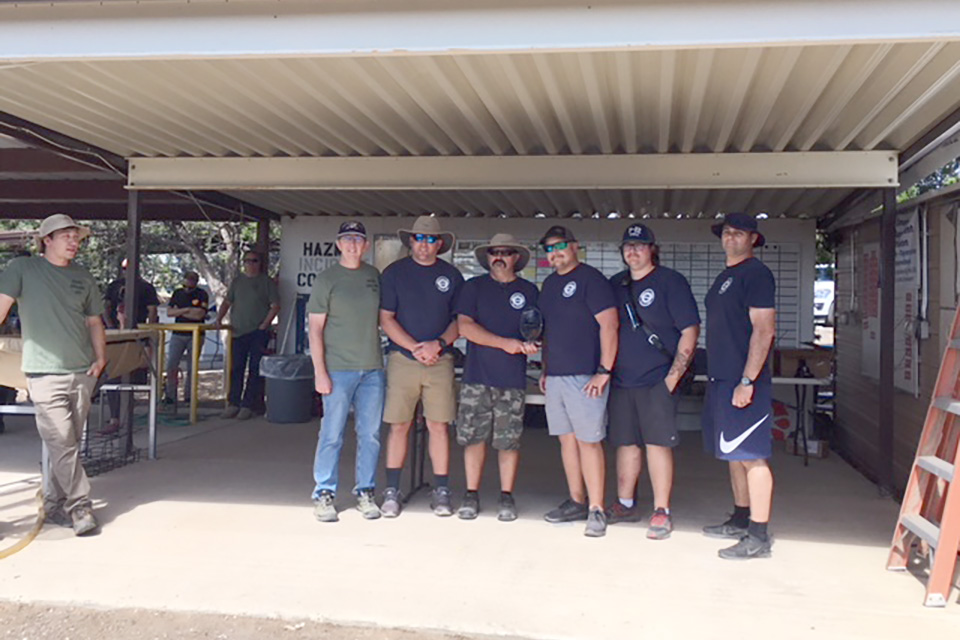 From left, Hazardous Materials Challenge Program Administrator Chris Ritter with Y-12 Fire Department members Craig Shaver, Jeff Foster, Brad Goss, Jeremy Maiden, and Doug Allen, who finished second in the annual competition.
Y-12 Firefighter Jeff Foster maneuvered through hazard after hazard in blazing southwestern heat and thought it was cool.
"It was one of the best experiences of my life," he said. "We worked hard and really represented the Y 12 Fire Department."
Foster, along with captains Craig Shaver and Jeremy Maiden and firefighters Doug Allen and Brad Goss, put knowledge and emergency skills to the test at the 26th Annual HAZMAT (hazardous materials) Challenge. Hosted by the Emergency Management Division of Los Alamos National Laboratory in New Mexico, the competition brought together eight teams from across the nation to network with one another, learn new HAZMAT techniques, and practice skills during six scored scenarios, which depicted realistic hazardous material situations. Teams dealt with a biological hazard, nerve agent decontamination, chemical release, a stinger operation involving the transfer of a chemical substance from an overturned tanker to a recovery truck, a confined space rescue, and an active-shooter situation. Each scenario had to be completed in 90 minutes during the four-day event.
"It didn't feel like 90 minutes," said Shaver. "It went by really fast. There's a lot going on, a lot to take in, and a lot of decisions to be made."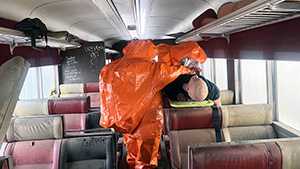 For one exercise, the Y-12 team members Doug Allen and Jeff Foster had to evacuate a train car with victims exposed to a biological agent.
Allen added, "You're constantly trying to figure out what angle to take and how they want things performed. It's a process."
When the scores were tallied, the Y-12 team finished second, and a composite team that included a Y-12 member nabbed third place. This is only the second time Y-12 has participated. The team attended in 2019, prior to COVID-19 restrictions, which halted the competition for two years.
"For our second time attending, that's a significant accomplishment, considering the teams we were competing against," said Division Chief Ben Taylor, who also attended. "Most of the teams have been competing there for several years."
The competitors included Los Alamos National Laboratory (LANL), Department of Defense, Civil Support Team, the Air Force, and others.
Just like three years ago, the teams felt the heat of competition.
"It was hot," Taylor said. "On average, the temperature was in the mid to upper 90s. Couple that with wearing fully encapsulating PPE (personal protective equipment), and you are testing your ability to make decisions while enduring physical stress."
And compounding the physical challenge, "There was the elevation change," Taylor said. "Here, we are at about 800 feet above sea level, but at Los Alamos you're at 7,300 feet. It's quite an adjustment to be out there."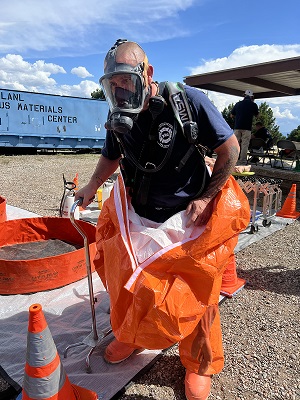 Y-12 Fire Department's Jeff Foster stops at a mock decontamination station after completion of an exercise.
The heat and elevation added another dimension to the already intense exercises.
"These were real life scenarios," Maiden said, "things that have happened across the world." A standout for him was the biological hazard exercise, which was staged in a train car and involved removing passengers who had been exposed to a biological agent.
An unplanned scenario called upon the Y-12 team to extend a helping hand when another team forgot to bring some important equipment.
"In one event, the CST needed structural firefighting gloves for their exercise," Taylor said. "They forgot them when they were in a scramble to get their equipment. Y-12 stepped up and offered the use of our equipment. So, we were good neighbors."
Not only did the Y-12 team display sportsmanship, but also strong camaraderie.
"This was a great experience for all of us to get together, no matter what shift we're on," Goss said. "This shows how we can work together. And we are proud to have won second."
Taylor echoed Goss's sentiments about teamwork.
"Everybody pulled their weight equally," he said. "They did an exceptional job."
Also earning praise were the Y-12 Fire Department members who held down the station while the HAZMAT Challenge team was away.
"I want to thank all of the battalion chiefs who allowed their firefighters to attend training prior to the event and those who worked to cover positions while the team was atLANL," Taylor said. "The team could not have been successful without everybody's support."