Hundreds tour Y-12 during Secret City Festival
Posted: Thursday, July 28, 2016, 5:21 pm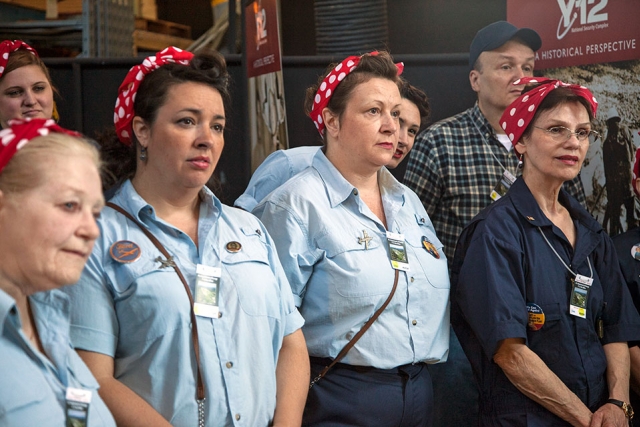 Women dressed as the World War II icon Rosie the Riveter tour Y‑12 during the Secret City Festival.

Tours of Y-12 brought almost 400 people to the site as part of Oak Ridge's 14th annual Secret City Festival. The visitors from 18 states included a group of women dressed as Rosie the Riveter, complete with lunch pails, from the historic Willow Run Bomber Plant in Ypsilanti, Michigan. Like Y-12, Willow Run was vital to the U.S. war effort in World War II.
The Rosies toured Y‑12 and learned about its current crucial missions, its role in the Manhattan Project and on‑going historical preservation efforts through discussions with Y‑12 historian Ray Smith and members of the Oak Ridge Heritage and Preservation Association. The group, familiar with Denise Kiernan's The Girls of Atomic City, also had a chance to meet some of Y‑12's version of the Rosies — the "Calutron Girls" — during the Secret City Festival.
While newcomers toured Y‑12, some who call the site home during the workweek participated with the Oak Ridge Amateur Radio Club at its demonstration of World War II‑era military radio communications, including the SCR‑284 — the same type as used in Oak Ridge during the war. Approximately 200 people visited the exhibit, which, along with live, on‑the‑air radio operations, featured replays of historic broadcasts, such as news programs from World War II, including the announcement of the existence of Oak Ridge and the Manhattan Project.
The group also hosted communications as part of the National Parks on the Air Program, celebrating the Centennial of the National Park Service and the newly established Manhattan Project National Historical Park. More than 270 contacts were made as part of NPOTA, including stations on five continents.