Meghann Parrilla: A difference-maker at work and in the community
Posted: Thursday, February 6, 2020, 11:40 am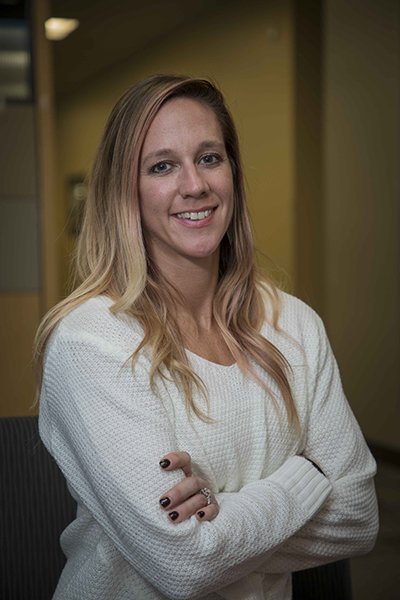 Y-12 employee Meghann Parrilla was named a 2019 40 Under 40 honoree by Knox.biz magazine.
Pacesetter Meghann Parrilla is making her mark on her workplace and community. For this reason, Knox.biz magazine recently named Parrilla a 40 Under 40 honoree, selected for her leadership, innovation, service, and drive.
As a volunteer gym coach, Girl Scout mentor, and leader at the Y-12 National Security Complex, Parrilla has one goal: make a difference.
"I love being that encouraging voice to adults and youth, motivating them to accomplish goals they thought were challenging or impossible," she said. "It doesn't matter whether that goal is achieving one pull-up, learning wilderness survival skills, or completing a tedious risk assessment.
"It's important to me to help someone in their growth as an athlete, young lady, employee, or all-around person."
Parrilla, employed for 11 years at Y-12, serves as a team lead in the site's Safeguards and Security organization. Her group analyzes the Y-12 security protection strategy against policy- defined threats. She oversees the development of a vulnerability assessment report to advise senior leaders on the most efficient and effective site security strategy.
She and her team developed a process to identify and document the impact an insider threat could have on Y-12's protective posture. The Department of Energy and National Nuclear Security Administration designated this process as a best practice for the Nuclear Security Enterprise.
For her leadership, DOE recognized her as the outstanding contractor security professional of 2017, and NNSA honored her with the 2017 Bradley A. Peterson contractor security professional of the year.
"These awards and the 40 Under 40 honor validate us a group," said Parrilla, who started her Y-12 career as a security police officer. "I work with a great group of people, the best security professionals in the Nuclear Security Enterprise. They are just as deserving of these recognitions as I am."
Parrilla's work tips
Get organized. Create a to-do list and prioritize actions by deadline. Make smaller goals within the larger actions so teh details aren't forgotten.
Create your niche. Listen, learn, and then share ideas to improve a process or save time and money. Take on an improvement project, own it, and deliver results.
Find value in your work. Find satisfaction and purpose in your job. When you believe what you do matters, it's easier to put in 100% effort.
That team approach carries over to her community service work. As a Girl Scout mentor, she inspires troop members at St. Mary's School in Oak Ridge to take a girl-led approach to serving their community.
"One project the girls choose to do every year is to wash and clean Barbie dolls that have been gently used and reclothe and accessorize them," she said. "They then give the dolls as Christmas presents to children who wouldn't otherwise receive gifts.
"It's important to provide opportunities for these girls to step up and lead," she said. "I want to instill in them responsibility, respect, kindness to others, and a commitment to integrity."
As a volunteer coach at Secret City CrossFit, Parrilla developed and teaches fitness programs for kids, teens, and adults. She also organizes an annual workout event to raise funds for local families financially burdened by cancer treatments or loss.
"Now that we've conducted this fundraiser for a few years, area businesses are coming forward and asking how they can help," she said. "I love organizing and watching something come together and grow. That's what I'm good at."
Parrilla and other 2019 40 Under 40 recipients were featured in Knox.biz magazine and honored at a gala in January.