Engineer passionate about art
Posted: Thursday, August 18, 2022, 9:43 am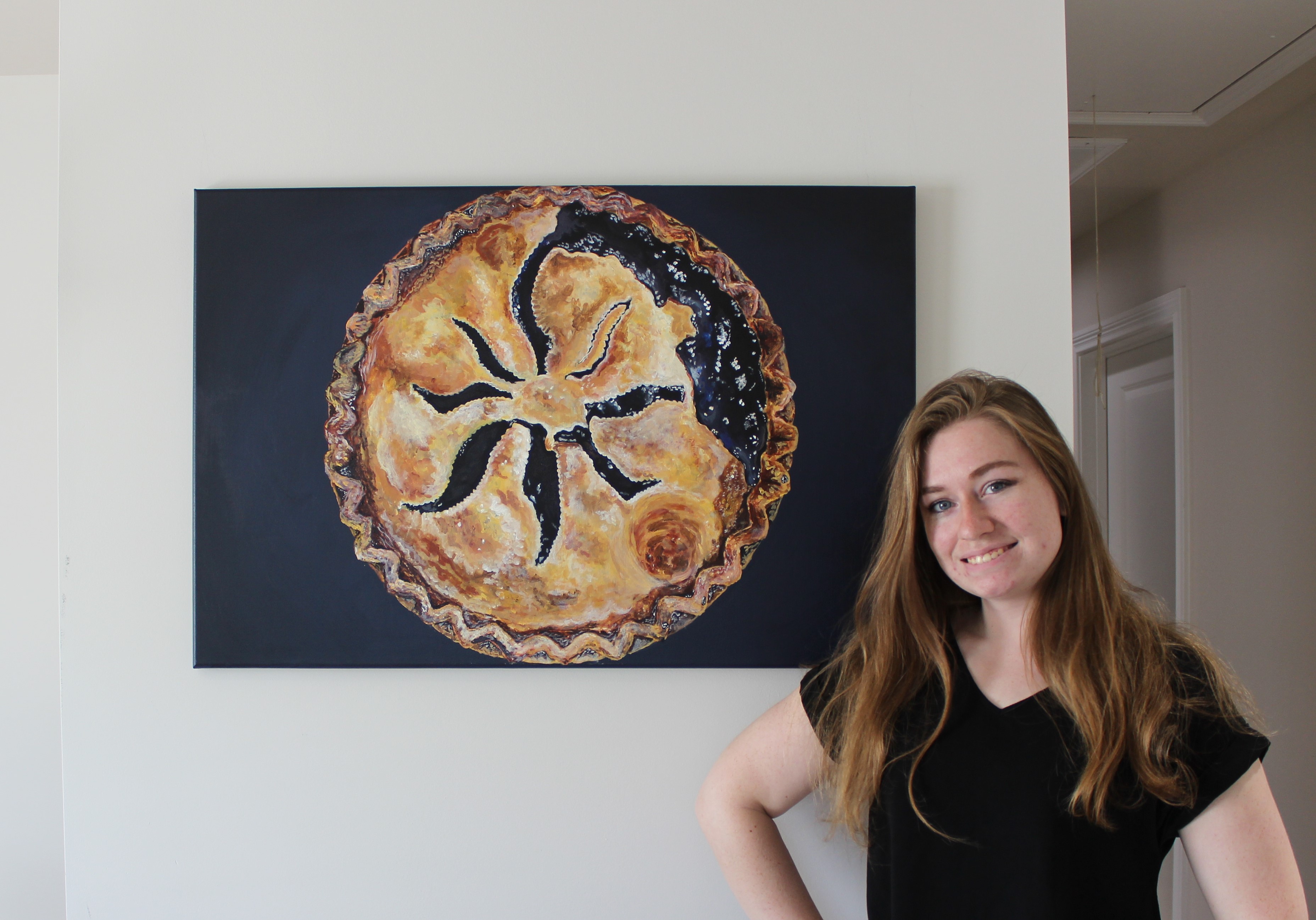 Y-12 Engineer Katie Romba, posing with one of her paintings
Engineering is defined as the "creative application of scientific principles to design or develop structures, machines, apparatus, or manufacturing processes."
The term engineering is derived from the Latin ingenium, meaning "cleverness" and ingeniare, meaning to "contrive or devise."
At Y-12, engineers help guide our mission work, often using clever, if not ingenious, methods. They troubleshoot problems and create solutions that make our work more efficient and better.
Engineers are also sometimes given certain stereotypes: math-whiz, fact-focused men.
However, engineers can be so much more. Engineers like Katie Romba are proof of that.
A 2019 Clemson graduate, she was hired at Y-12 into the Career One program. She's worked rotations in Design Engineering, Specialty Mechanical (now Production Equipment Engineering), and is currently working on Development on the Technology Transition Project team, which is helping Y-12's technology modernization efforts.
Engineering is her day job, but her passion is art.
"I got really serious about my art in my teens," Romba said. In high school she entered the Congressional Art Competition, winning not once, but two years in a row. Her artwork was showcased in the U.S. Capitol building.
"Most of my work specializes in photo-realistic pieces and my go-to medias are acrylic painting, watercolor, marker, and colored pencil.
"My art captures what life is like around me," she said.
Judging from a large part of her portfolio, what is around her is food. Growing up, she was plagued by childhood allergies.
She found herself allergic to almost every major food allergen (milk, wheat, eggs, peanuts) and so she couldn't eat many of the things everyone else could.
"Instead, I would draw these foods, study their texture and color, and imagine what their flavors would be like through art."
Since moving to the Oak Ridge area, Romba has become involved with the Dogwood Arts Festival. She's been an exhibitor at the Dogwood Arts House and Garden Show Makers Market. She also joined the Tennessee Artist Association and participated in their fine arts programs.
In 2021, Romba opened the doors to her own studio, making art an official business and fulfilling a lifelong dream.
Despite that, she's still very grounded and serious about her work at Y-12 inside the blue line.
"I enjoy the challenge that is offered in my work every day. There is always an opportunity to design a creative solution to a project's needs, and I enjoy searching out opportunities to create a more efficient and better functioning work environment for our projects," said Romba.
Romba also enjoys the challenge of growing her art. "My goal is for more of the community to experience my work by showing more pieces in galleries, both in the Knoxville area and around the country, and connect with others in the way we see the world around us," she said.