The ties that bind
Posted: Wednesday, May 25, 2016, 4:34 pm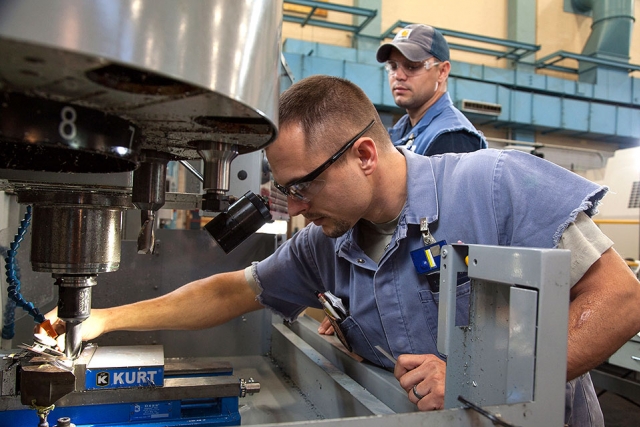 Apprentice machinist John Bryant, foreground, uses dial calipers to measure a feature of a part while his twin brother Jeff Bryant, also an apprentice machinist, looks on.

Twins Jeff and John Bryant's lives have tracked a similar course. Both joined the military after high school, then both became security police officers at Y‑12, and now they are apprentice machinists at the site. For the brothers, it's not their parallel career paths they find intriguing but the connection they discovered to their past.
It wasn't until they entered the apprenticeship program that they found out their grandfather also was a machinist. "He was a tool and die maker," said John Bryant. "We never knew that. Now we have a deeper appreciation for our grandfather and for the trade."
The brothers are in their last year of a four‑year apprenticeship program and are on track to graduate in August. They are grateful for the on‑the‑job learning opportunity. Through a combination of classroom training in manufacturing technology and machining practices at Pellissippi State Community College and hands‑on shop work at Y‑12, they are learning to operate tools, such as lathes and milling machines, to cut and produce precision parts.
"I'm happy for the opportunity to learn a trade, a craft, that I never dreamed I'd be able to do," said Jeff Bryant. "I get a lot of satisfaction in taking a blueprint and a piece of rough stock and turning it into a part."
Greg Justice and Mike Patt, journeymen who worked with Jeff and John Bryant, respectively, enjoy passing their skills and knowledge to apprentices who will carry on the site's tradition of machining excellence. "The apprenticeship program is an avenue for people to move up in skill positions," Justice said.
Patt added, "We need apprentices who will learn skills to continue to operate the plant at the level we have throughout the years."
The Bryants are more than willing to take up the mantle. "We are absolutely absorbing this," John Bryant said. "Once the older generation retires, if our country still needs our skill set, our knowledge, we'll be here."
Each brother has always felt a strong need to serve his nation; it's been the driving force in their career choices.
After high school, Jeff Bryant joined the Marine Corps where he trained using all kinds of weapons systems, eventually becoming a field artillery section chief in charge of a 12‑man team firing a 155-mm Howitzer. After the Marine Corps, he joined the Tennessee Army National Guard as a military police officer, deploying once to Iraq, before becoming a security police officer at Y‑12.
John Bryant followed a similar but different path. He joined the Army and then the Army Reserve. As a combat engineer on his second deployment in Iraq, he was wounded by enemy fire and received the Purple Heart, something he's hesitant to talk about.
"There are so many other guys who work here who have done a lot more in the Armed Forces than me," he said. "I don't want to pretend to be something I'm not. I'm not here to show ribbons and stars."
After his military service, he too became a security police officer at Y‑12. "Jeff and I had alternating schedules as SPOs, but now we work together as apprentices. We're extremely blessed to have served our country in the military, as SPOs and now as apprentices. That's pretty big for us, to have jobs that directly affect our nation's security."
"We feel like everything has come full circle for us," Jeff Bryant said. "Our grandfather has passed now, but I think he would be proud of us."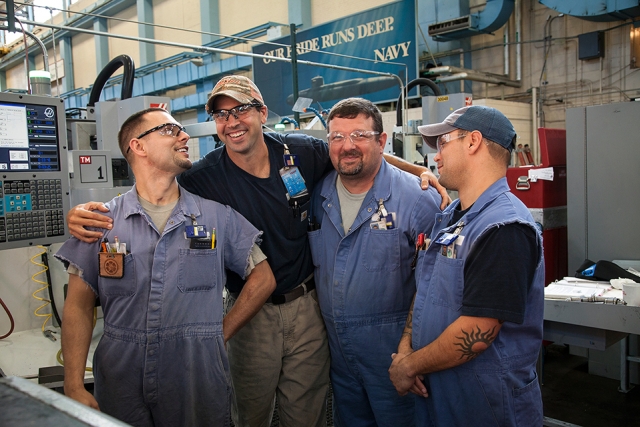 From left: Apprentice machinists John Bryant, Justin Dupas, Brice Graham and Jeff Bryant share a laugh and camaraderie on the shop floor.