A Y-12 intern's 'sublime' experience
Posted: Thursday, September 5, 2019, 3:10 pm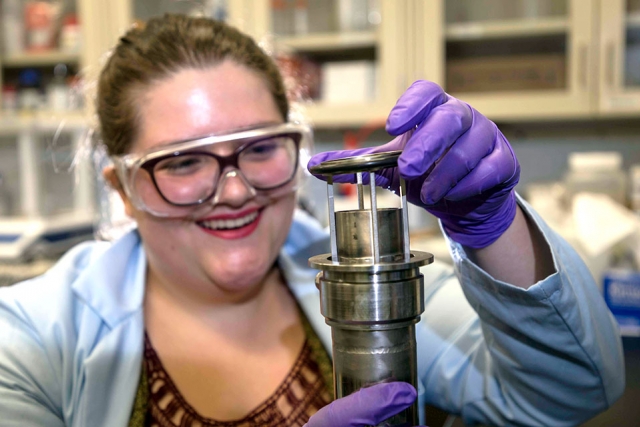 Y-12 intern Colleen Hyer inspects the sublimation chamber she and intern Dalton Parker designed.

At the Y-12 National Security Complex, you won't find employees lurking around in trench coats, but for intern Colleen Hyer, the site does hint of intrigue.
"Because of the tight security, it's got a bit of a secret agency feel. Mysterious and exciting," she said. "Y-12 has a certain atmosphere about it that makes it so interesting to work here."
Hyer, a junior majoring in chemical engineering at South Dakota School of Mines and Technology, might not have found much in the way of spy stuff at Y-12 but she did find her 10-week internship an "awesome opportunity." She worked on a project involving electrochemistry.
"My project dealt with electroplating aluminum onto a zirconium substrate to see if zirconium is a good testing substitute for uranium," she said. "The plating keeps certain components from corroding in the oxygen atmosphere."
One of her tasks was to create an aluminum and stainless steel sublimation chamber, which is used to convert a solid to a gas. "There are glass ones out there, but the substance we worked with reacts violently with materials in glass, so we needed the chamber made from a combination of the two metals," she said.
John Freiderich, Hyer's work mentor, didn't provide a blueprint for making the chamber. Instead, he wanted Hyer and intern Dalton Parker, a senior from Tennessee Tech, to put their problem-solving skills to work.
"I've had good success incorporating interns into my projects," Freiderich said. "We work on tasks together, but at the same time, I wanted Colleen and Dalton to be free thinkers. I wanted them to build a chamber on their own, to learn and figure out the science and engineering they don't know yet."
They did just that, coming up with their own working prototype.
Y-12 2019 interns by the numbers
29
interns
24
undergrads
5
grad students
19
colleges and universities represented
9
majors represented
10
home states represented
50
Y-12 interns hired since 2015
Hyer and Parker were two of 29 interns at the site who worked on projects ranging from making ceramic radiation detectors to building a procurement website to designing the circuit for a probe to detect the liquid and conductivity of molten salt to developing an app for a machine indicator light.
The intern program supports the site's National Nuclear Security Administration mission in two ways: (1) students, some of whom obtained security clearances for their internship, apply their knowledge and skills to projects that directly support mission work, and (2) Y-12 secures a strategic pipeline of future talent to supplement the workforce.
More than 50 interns have been hired as employees since 2015, said Amanda Muirhead, who coordinates the Y-12 intern program.
"I think what I enjoy most about this job is seeing how the students grow during their time here," Muirhead said. "Something I have been encouraged by is just how positive this year's group has been and their eagerness to participate, learn, and be challenged."
Hyer's next challenge is finishing her degree. And then? "In five years, I could see myself working at Y-12, working towards being a supervisor someday," she said. "Tennessee is beautiful, and I love it here."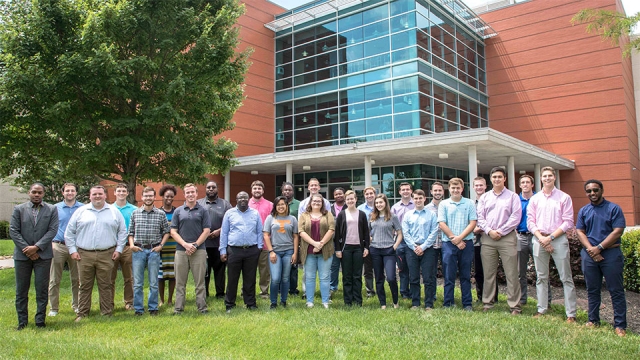 Y-12's summer interns came from 10 states and represented more than 19 colleges and universities.