I am mission success: Melissa Blair
Posted: Tuesday, November 3, 2020, 8:51 am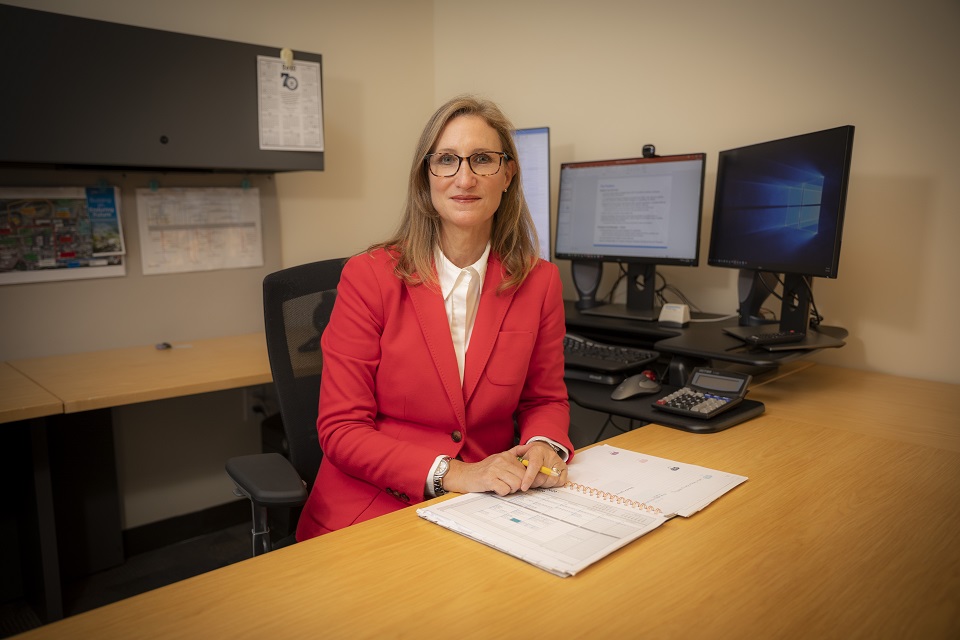 Take 5 minutes and learn more about Melissa Blair, CNS's new senior director of Enterprise Strategic Planning. All views and opinions are the employee's own and do not necessarily reflect those of CNS.
In addition to being the senior director for Security Programs, Melissa Blair has taken on a new role as the new senior director of Enterprise Strategic Planning. She is responsible for leading a complex, multiyear site planning process, documenting milestones, and ensuring the process is communicated and working.
It's not what she thought she'd be doing when she entered college as an education major.
"I always wanted to be an elementary school teacher," she said with a slight smile. "I quickly learned that I lacked the creativity to come up with construction paper and sticker activities for kids and switched to learning how to train adults in business and industry."
And that's what she's been doing for 30 years. In the process, she's gained a diverse set of experiences across DOE's weapons complex, which has prepared her well for her current role.
What is your favorite aspect about your work environment? How does that aspect make you know the mission is being met?
When I see someone working with a sense of urgency. Their dedication to meet the mission and our deliverables despite all the challenges is inspiring.
What CNS principle drives you to be successful?
There are really two: Promote a Questioning Attitude and Continuous Improvement. Anyone who has worked with me knows I ask lots of questions and encourage others to as well. Particularly, "why do we do it that way," and "is there a better way?" I'm always looking for the lessons learned in a situation and to improve upon the process.
What top strength do you bring to your organization and why?
My energy and ability to work with and inspire others to work with a sense of urgency. If you see me on a Thursday morning, watch out … that's when I come to work with my half caffeine coffee and really kick it into high gear!
Are you doing what you envisioned as a young adult? If so, describe how you got here.
Kind of … I always wanted to be an elementary school teacher and started out as an education major in college. In 1990, I started with the company in Paducah as an instructional designer when all five Martin Marietta sites were under one contract. I also taught basic instructor training, which I really loved, as it's just as important to know how to design instruction as it is to understand how to teach adults. I transferred to ORNL, then to Y-12, and stayed with training until BWXT took over the Y-12 contract. Process improvement was part of the contract, and the first Six Sigma group was formed, so I left Training in 2001 to become a certified Six Sigma Black Belt. I spent the next 11 years in Projects before landing in Program Integration in 2016.
What one thing would your coworkers be surprised to know about you?
Before I met and married Jim, I was pretty much a homebody. He's shown me that that I don't have to be perfect to enjoy sports and the outdoors. So, now I am a certified SCUBA diver, have my motorcycle license, have taken up golf, and have become a big time foodie. We're always looking for new items to cook together.
What work advice would you offer someone who is new to Pantex or Y-12?
You don't need a technical degree to be successful in this company. I have an associate's degree in word processing (I can type really fast!); B.S. and M.S. degrees in education, training, and development; and a doctor of education in educational psychology, specializing in collaborative learning — all non-technical degrees. Every position I've held over the last 30 years has put me with a team where I am not the expert (except for training). Being successful is about who you work with and understanding and playing on each other's strengths to collaborate and make the best decisions.