Storage added to HEUMF
Posted: Wednesday, October 16, 2019, 10:30 am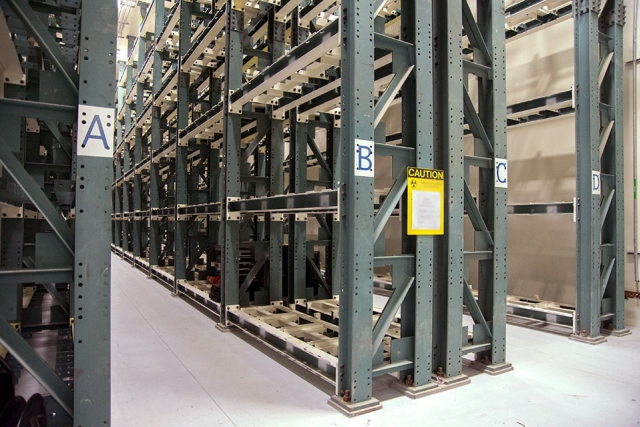 Storage area at HEUMF.

How do you go about adding 800 new storage locations to an already in place building? It's a project that a team is tackling now at the Highly Enriched Uranium Materials Facility as they add more storage space for rackable can storage boxes.
Project Manager Michael Gilhooly said, "Y-12 canning operations have increased, so we need more storage space for rackable can storage boxes. The project will increase existing RCSB storage capacity inside HEUMF by adding 800 new storage locations."
The project is being done in phases, so a benefit was leveraging the existing design package, purchase order, and documentation from the first phase of the project to benefit the second and third phases. Another advantage was using the same Construction craft crew from the first phase. The crew's familiarity with the work provided both cost and schedule efficiencies, allowing the second phase to be completed three weeks ahead of schedule.
"The team was challenged to complete field installation of all 800 new RCSB positions in the bay by September 30. We had to keep Phase 2 activities on schedule in order to achieve our challenge goal," Gilhooly said.
Working in HEUMF isn't easy. "Logistics for moving the steel beams into HEUMF, and installing each beam is difficult. Extraordinary communication, coordination, and commitment to the success of this project have been displayed by our Construction craft, Material Management, and HEUMF operations personnel," Gilhooly said. "This display of teamwork each day is the primary reason for the success of this project thus far."