Introducing Girls to Engineering
Posted: Wednesday, April 4, 2018, 3:44 pm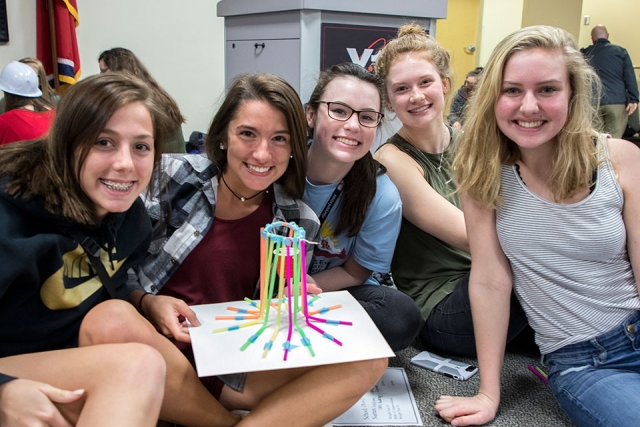 Future engineers from Oak Ridge High School display their STEM challenge creation.

More than 500 middle- and high-school-aged girls recently attended Y-12's Introduce a Girl to Engineering event.
The attendees could interact with and ask questions of engineers, who were a large part of the more than 90 volunteers at the event. Keynote speakers included NNSA Production Office Deputy Manager Teresa Robbins and Y-12 Deputy Site Manager Amy Wilson. The students also could participate in a STEM (science, technology, engineering and math) challenge and visit 23 booths that highlighted engineering careers.
One parent who attended with his daughter said, "My daughter and I were impressed with the organization and the information that was given. It has given her a great insight to what engineering field she wants to pursue. Overall, it was time well spent."
"This event opens up a potential for our family to have a fifth-generation employee at Y-12," said an employee. "I'm filled with pride that our company provides something like this for workforce development."
Watch this video to see the students' perspective.