Honoring our veterans
Posted: Thursday, November 11, 2021, 1:44 pm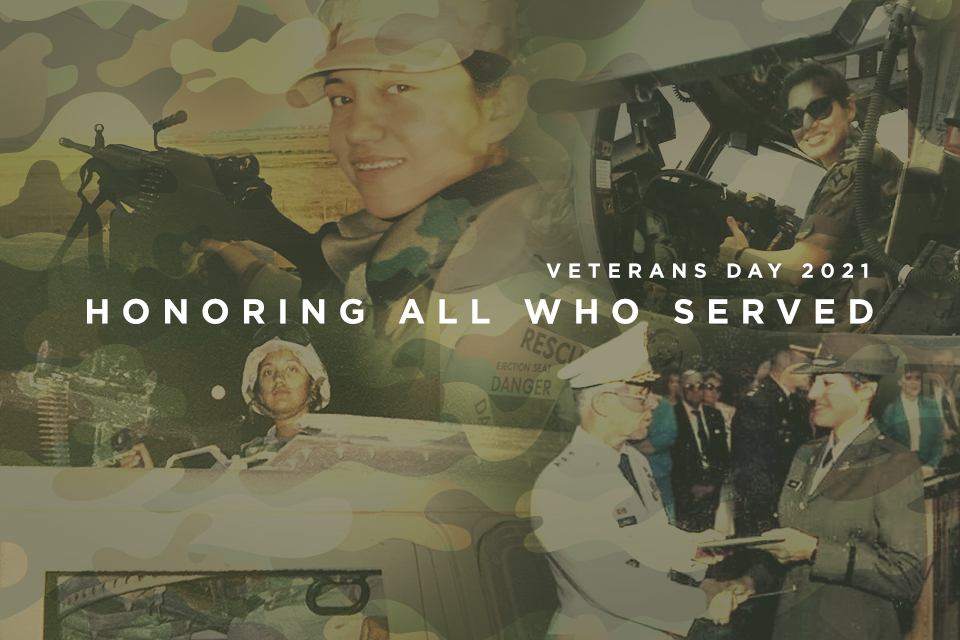 Veterans Day is when we remember the sacrifices and service of our veterans past and present. We are proud of the large number of veterans who choose to continue their service to our country by working at Pantex and Y-12.
Every veteran has their own story, and oftentimes, transitioning from military to civilian life can be a challenge. Two female veterans shared their journeys, and though each has a unique story, both share similar themes throughout their lives—service above self, tenacity, and dedication to excellence.
Bonnie Harlow, Y-12
Y-12 Operations Security specialist Bonnie Harlow is passionate about service, and as chair of the Y-12 Serving our Service Members affinity group she is part of one of Y-12's most tight-knit communities. Jovial banter fills the Skype chat as old members tease one another, and dedication for serving others is felt throughout the virtual room.
"It's such a great group. They are a strong group of veterans and veteran supporters who have a desire to continue to serve veterans and our community," said Harlow. "It's a family, and I am grateful that our company allows us to organize this affinity group."
Harlow's commitment to serving others comes from her own experiences as a veteran and a military brat. Her father served in the Marine Corps for more than 25 years, and several other family members have served. Military life was something she was used to; she didn't really know a life outside of the military. A few years after high school, Harlow decided to follow in her family's footsteps and enrolled in the Marion Military Institute, which is one of only four military junior colleges in the United States. Harlow accepted an Army ROTC scholarship in MMI's Early Commissioning Program, which allows qualified students to complete ROTC in two years and gain a commission as a Second Lieutenant in the United States Army.
Harlow was commissioned after two years and joined a National Guard unit in Miami, Florida, while earning her four-year degree at the University of Miami. After graduation, she was stationed at Ft. Huachuca, Arizona, and served in the area of Military Intelligence as an Operations Security officer for her unit. During these years, she credits the military as one of her primary motivators.
"The military lifestyle was what I grew up in and have always been comfortable in. I enjoyed the structure and accountability it provided," said Harlow. "It was always challenging, and it was something I loved doing."
Eventually, Harlow was recruited from the Army by Edward Jones Investments to open an office anywhere she chose across the nation. She opened the first Edward Jones office in Farragut, which is what brought her to East Tennessee in 1991. After her kids graduated from high school, Harlow applied for a SPO position at Y-12 and was hired in January 2019. In April 2021, she started her position in OPSEC.
"Working for a government contractor is really appealing to many veterans, and I was no different. It provides a similar atmosphere to that of the military when working in security," said Harlow. "I enjoyed my time working as a SPO, and I have really thrived in my current role in OPSEC. It provides a new challenge every day and really taps into what I loved about the military."
Harlow is active in the veteran community. She served as the secretary of the East Tennessee Military Affairs Council for two years where she learned about many veterans in need and programs available to assist them. Her time away from the office is usually spent at various community events for veterans and joining her SOS community off-site. When it comes to supporting veterans, Harlow emphasized the importance of helping those who are deployed.
"I remember how hard it was on my dad and my family when he was deployed when I was a kid. The biggest thing that Y-12ers can do is, if they know of a coworker who is away on drills or deployed or know of a coworker with a spouse who is away, to check in and offer to help them," said Harlow. "Knowing that people care makes all the difference."