Congratulations 2020 Jackie Kelly winners
Posted: Tuesday, October 13, 2020, 10:50 am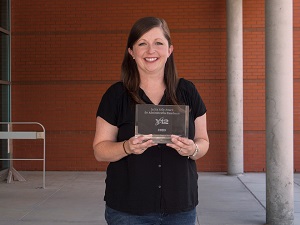 Karissa Sampson
Karissa Sampson is the 2020 Y-12 recipient of the Jackie Kelly Award for Administrative Excellence.
Karissa was nominated by her supervisor Kevin Corbett, who is director of the CNS Quality organization.
"Karissa has demonstrated her dedication to learn since she arrived several years ago. She came to CNS without any Y-12 experience and immediately immersed herself into understanding our mission, supporting the organization, and her follow employees," said Corbett. "Additionally, Jackie Kelly, the person this award was named after, worked for me just before her passing. It took me a long time to hire someone who I felt could carry on as professionally as Jackie did, but with Karissa, we hit the jackpot. She embodies all of the same beautiful attributes that Jackie did, as well as her work ethic."
CNS established this award three years ago in honor of Jackie Kelly, who met every challenge head on, including the cancer that ultimately took her life. Nominees are evaluated by five Pantex and Y-12 leaders on these criteria:
Dedication: to the mission, their organization, and their fellow employees;
Conscientiousness: to the quality of their work;
Caring: building relationships and a concern for other's success;
Can-do attitude: "never say no" approach and helping to make a difference; and
Capability: aptitude in roles, responsibilities, authorities, and accountabilities.