Competing for a grade and our nuclear security
Posted: Thursday, February 25, 2016, 2:05 pm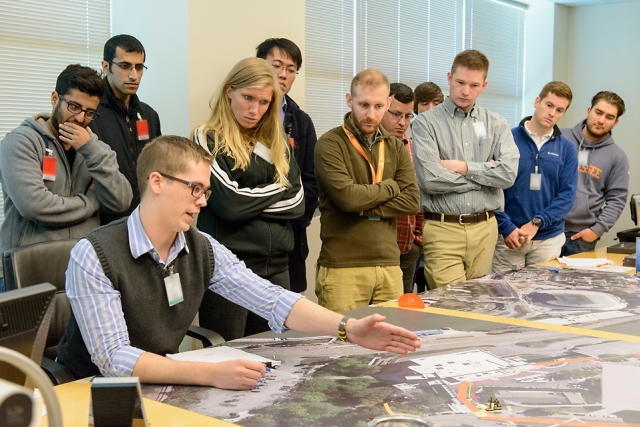 UT students and Y‑12 nuclear security subject matter experts conduct a battle board challenge in Oak Ridge.

It's like a semester‑long chess game with the final moves played live at Y-12 National Security Complex. Consolidated Nuclear Security, LLC nuclear security training experts and University of Tennessee graduate students strategize over a 3‑dimensional battle board during the culmination of an intense college course — a simulated, practical, force‑on‑force, military‑type exercise in which the victors control the virtual cached enriched uranium.
As part of the CNS and UT partnership, Y‑12 experts and UT students work together throughout the semester and then lay it all out on the table in a fierce, calculated half‑day challenge. Dr. Howard Hall, Governor's Chair Professor at UT, teaches the Nuclear Security Science and Analysis course, working closely with KJ Maddux and others at Y‑12, to offer well rounded training for our nation's next generation of nuclear security decision makers. "I don't know of another program like this outside Tennessee," said Hall. "We have a unique opportunity to work with nuclear security experts as part of the Institute for Nuclear Security, and we conduct our final exercise inside the perimeter of a nuclear facility. This battle board event is definitely the highlight of the semester. Through this training, we're making a significant impact on the future workforce."
The INS was founded to increase cooperation between government and academia to solve crucial problems in global nuclear security. As a top‑tier graduate program in nuclear engineering, UT attracts students from around the world. In addition to CNS and UT, INS members include the Howard H. Baker Jr. Center for Public Policy, Oak Ridge National Laboratory and Oak Ridge Associated Universities. "Nuclear security carries tremendous domestic and international importance," said Maddux, senior program manager for Global Security Analysis & Training at Y‑12. "It's critical for institutions in academia, industry and government to partner. The INS goal is to create opportunities for its members to interact with one another to attract and educate the next generation of nuclear security experts."
Y‑12 and UT have completed seven battle board exercises, each with its own flavor. The fall 2015 class of 32 students, which included active‑duty military personnel pursuing advanced degrees, divided into teams early in the semester. The red team played the adversaries (bad guys) and the blue team acted as the protective force (good guys). They held frequent, separate strategy meetings to build their attack/defense of a mock nuclear facility.
The red team's goal was to infiltrate a mock facility; the blue team was well prepared and ready for an attack, with multi‑tiered tactics in place to defend the facility and the stored nuclear material. The teams moved back and forth, deliberating in separate rooms between turns, taking their best guess at the other team's next play on the board. This year, the blue team reigned, protecting the nuclear material and leaving the red team with just one man standing.
"Y‑12 is a gem with about 15 subject matter experts available to help the UT students understand and experience physical security, vulnerability analysis, performance testing, safeguards and security, and nuclear materials control and accountability," said Maddux. He has 30 years of broad experience in the nuclear security field and works closely with Hall to ensure the students receive a healthy balance of classroom and hands‑on training.
Hall, world renowned in the intervention of nuclear terrorism, brings a wealth of field experience to the classroom. Before joining the UT's nuclear engineering staff in 2009, he worked at Lawrence Livermore National Laboratory and supported the Department of Homeland Security. "We're educating grad students — from nuclear engineers to writers — about nuclear weapons, material security and crimes. We truly value our unique partnership with CNS," he added.
Throughout the exercise at Y‑12, senior managers observed the battle board challenge and addressed the students to offer sound advice and words of encouragement. "The world is a dangerous place. Now, more than ever, we need the next generation to step forward and face the challenges of securing nuclear materials," Bill Tindal, Y‑12 site manager, said. "I applaud you for choosing this field of study. Our world will be counting on you."
At the semester's end, UT's grad students took away their final grade and unmatched national security experience, leaving the virtual cached enriched uranium safe and secure.
Joining forces, CNS and the University of Tennessee offer well rounded training — both on the Knoxville campus and at Y-12 — for our nation's next generation of nuclear security decision makers. Y-12 recently hosted a tour and 3-D battle board challenge for graduate students. The exercise involved strategic moves by a team protecting a mock nuclear facility and a team attacking the facility to control the stored nuclear material.