From Introduce a Girl to Engineering to Y-12 intern
Posted: Friday, February 17, 2023, 7:36 am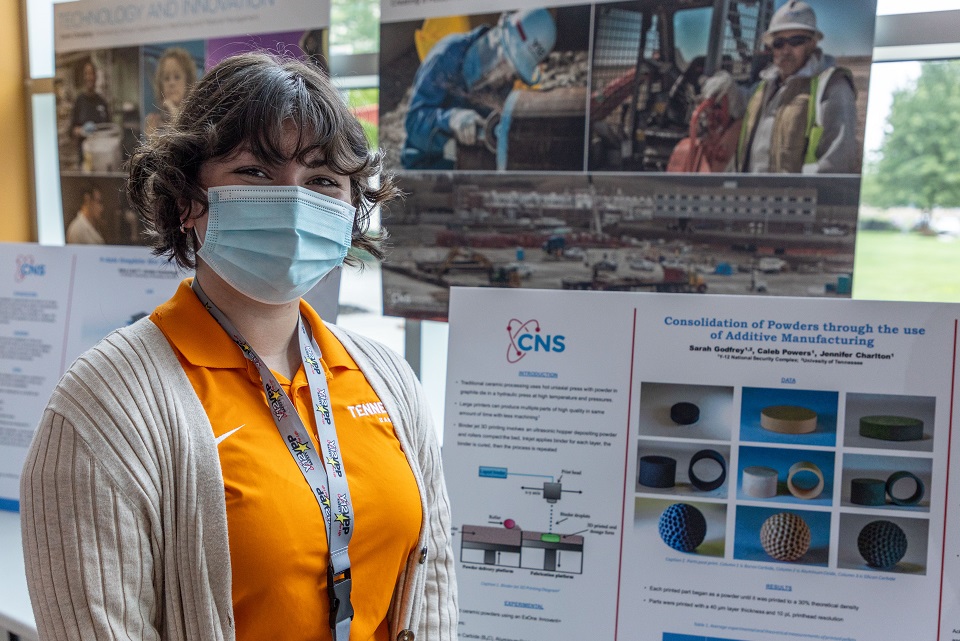 Five years after visiting Y-12 for Introduce a Girl to Engineering Day, University of Tennessee student Sarah Godfrey presented her project "Consolidation of Powders Through the Use of Additive Manufacturing" during the 2022 Intern Expo.
Y-12's educational outreach efforts are focused on making students aware of possible careers, particularly in science, technology, engineering, and mathematics (STEM). This February, Y-12 will host the tenth year of Introduce a Girl to Engineering (IGTE).
Ideally, some of those girls attending IGTE will eventually seek employment at Y-12. That ideal became reality with Sarah Godfrey, who completed an internship during 2022 at Y-12 in the Development organization. This current senior in materials science at the University of Tennessee Knoxville credits IGTE with shaping her career path.
"I attended IGTE in February of 2017 during my sophomore year at Anderson County High School. I was so excited to see the booths of so many organizations promoting women in STEM," said Godfrey.
Recalling her sophomore year, Godfrey said, "I had some decisions to make that would ultimately impact what I did after graduation." With no other classmates considering engineering, she said, "It didn't feel like a career in engineering was in reach until I attended that event."
Initially, Godfrey considered chemical engineering because she loved chemistry. However, she was exposed to materials science while attending the Governor's School in 2019, and her academic career was set.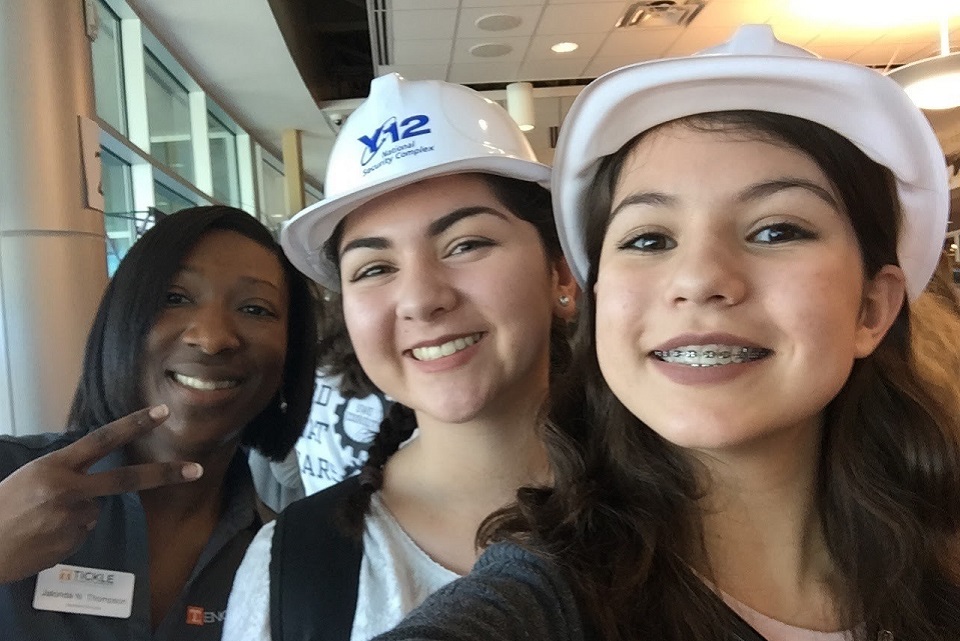 From left, Jalonda Thompson, University of Tennessee Tickle College of Engineering, with Sarah and Karah Godfrey at Introduce a Girl to Engineering in 2017. Y-12 National Security Complex hosts the annual event with the goal of introducing more young women to careers in science, technology, engineering, and mathematics.
From the classroom to research and development
Godfrey admitted that she had never really known what went on at Y-12, and she was impressed with the levels of collaboration and innovation in Development. "Even as an intern, my ideas and hypotheses were taken seriously," Godfrey said. She explained that someone was always available to teach and train her.
Noting that most any STEM major can learn new skills to work on any project, Godfrey said, "I found this knowledge compelling. At Y-12, there is always room to learn new things."
What's next?
While Godfrey finishes her senior year at UTK, she is also starting coursework for her master's degree in material science and engineering. She plans to graduate in the spring of 2024 and is open to employment with Y-12 or a similar industry.
Godfrey hopes to continue studying additive manufacturing. "The expansion of additive manufacturing to include metals, ceramics, polymers, and composites creates many opportunities to continue research for other applications," she said.
For other young women who want to follow in her footsteps, Godfrey has advice. "Although it may seem daunting, there are other women who are doing it," she said. "There will always be a community to support you. You should do it!"