Former Strategic Command chief emphasizes importance of Pantex, Y-12 missions
Posted: Tuesday, February 16, 2016, 6:56 pm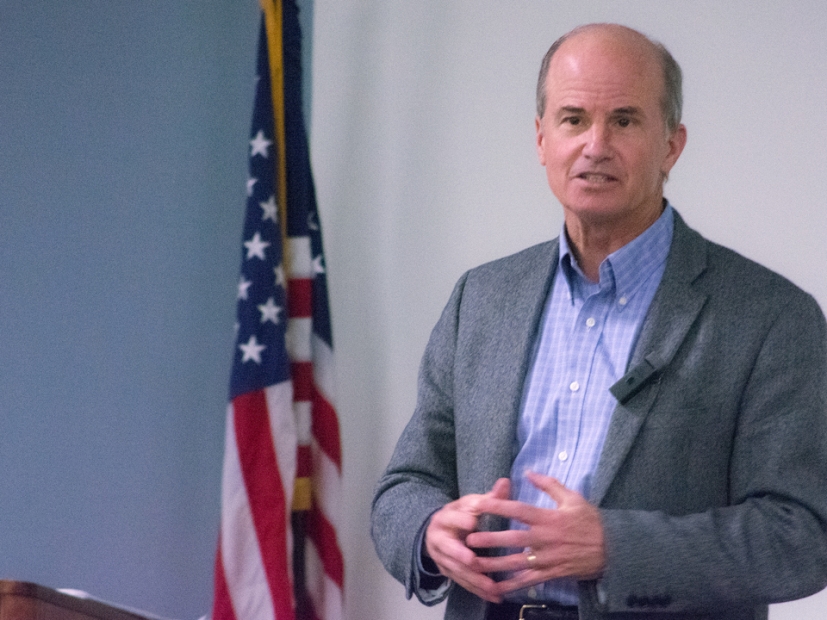 Gen. Kevin Chilton, former commander of U.S. Strategic Command, spoke to Pantex employees and thanked them for their service.

Gen. Kevin Chilton, former commander of U.S. Strategic Command, recently spoke to Pantex employees and delivered a clear message: "From the bottom of my heart, thank you for what you do every single day." During the Jan. 26 all hands address, he encouraged employees to be proud of themselves, calling the mission "unique," "vital" and "special."
Chilton, who is now working with Consolidated Nuclear Security to support Pantex and Y-12 missions, was at Pantex as a member of a Technical Advisory Board focused on enhancing mission delivery. His talk with employees emphasized the importance of the CNS mission, linking employees' roles to the broader nuclear deterrent.
"One thing I'm certain of, folks, is that we in this room, our children, grandchildren and great-grandchildren will absolutely need and depend on every one of you and the work you do to provide security for them and our great country," he said. "For that and your dedicated and hard work, I thank you again."
And he noted that more work will be coming to Pantex and Y-12 as nuclear weapons work ramps up in the coming decades.
"The cycle is picking up right now, and it's picking up fast. There is a tremendous amount of work to be done, and there are those who doubt we can do it," Chilton said. "And then there are those like me who are counting on folks like you to make it happen because we have to make it happen. It's just so important to our country."
In addition to thanking employees for their work, Chilton explained that the purpose of the United States' nuclear stockpile is to deter and assure — deter those who think striking us wouldn't be so bad and assure our allies that the U.S. can provide protection. Chilton said our nation has used nuclear weapons as a deterrent every day since they were first fielded. "We have been 100 percent successful," he noted.
Aside from stressing the importance of a strong nuclear deterrent and the role CNS plays, he peppered his remarks with stories of his days as the commander of STRATCOM, his long and prestigious Air Force career and his service at NASA, where he was on three space shuttle missions: Endeavour (1992), Endeavour (1994) and Atlantis (1996), which he commanded.