CNS Joins Oak Ridge Chamber in Nashville
Posted: Wednesday, April 13, 2016, 12:25 pm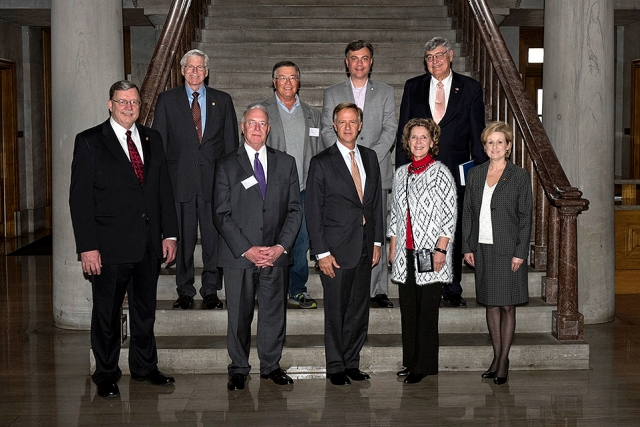 Tennessee Governor Bill Haslam (front row center) greets Oak Ridge business leaders during Oak Ridge Chamber of Commerce's Day on the Hill. Also pictured: (back row) Kelly Callison, Gene Patterson, Rick Chinn, Ben Andrews, (front row) Stacy Myers, Parker Hardy, Patricia Myers and Lisa Copeland.

Consolidated Nuclear Security and other area businesses recently joined the Oak Ridge Chamber of Commerce in hosting a breakfast for state lawmakers in Nashville.
More than two dozen Chamber members took part in "Oak Ridge Day on the Hill" meeting with area lawmakers and state officials in their offices and in the halls of the Legislative Plaza, encouraging them to support the Chamber's legislative and public policy agenda for 2016.
Among the requests, approved by the Chamber's Board of Directors, was continued support of Tennessee Promise, Drive 55 and the TN Reconnect program; and the expansion of general aviation capacity by developing a regional airport in Oak Ridge.
"It was a tremendous honor to participate as part of Oak Ridge Day and represent Consolidated Nuclear Security," said CNS Small Business Partnerships manager Lisa Copeland. "Meeting so many state senators and representatives and other dignitaries and being able to tell the Y-12 story and the importance of workforce development was our mission; and we were able to accomplish that," she said.
In addition to CNS, other exhibitors were Advanced Management Inc., Roane State Community College, Oak Ridge Utility District and the City of Oak Ridge.
An unexpected highlight of the visit was the opportunity to share a few minutes with Governor Bill Haslam and get a picture made with him.
Stacy Myers, chairman of the Chamber's Advocacy Committee said, "Our goal was to take Oak Ridge to Nashville and share what Oak Ridge is doing for the next generation of our workforce."
"Our scheduled and impromptu meetings with state officials in the hallways of the Legislative Plaza and the State Capitol proved to once again be productive."