XR Symposium at ORETTC: Positioning for the Future
Posted: Wednesday, March 22, 2023, 4:55 pm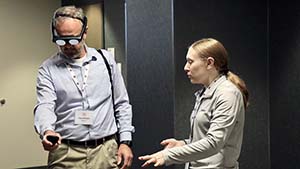 Toby Williams, Director of Global Security Analysis and Training (GSAT), tests out an AR headset under the instruction of Avrio Analytics CEO Alicia Caputo.
Training workers in high-hazard jobs safely can be a challenge. At the Oak Ridge Enhanced Technology and Training Center (ORETTC), new training methods will eventually remove many of the obstacles by placing trainees outside the hazard bubble and into virtual environments.
That is one takeaway from the recent Extended Reality (XR) Symposium at the new Emergency Response Training Facility in Oak Ridge.
Subject matter experts from across the Nuclear Security Enterprise (NSE) and industry converged to share ideas on technology training and digital transformation. The center's array of virtual reality (VR) and augmented reality (AR) tools was on full display as demonstrations and panel discussions took place throughout the facility.
Y-12's ORETTC Director Ashley Stowe said the goal of the symposium was to increase partnerships and also make participants aware of the potential of these advanced training tools.
"We had almost 60 participants — evenly split between those who've used XR at work and those who have not," Stowe said. "As a result of the symposium, we have commitments to collaborate and interest to apply the technologies."
Toby Williams, director of Global Security Analysis and Training (GSAT) at Y-12, said one of the goals of the symposium was to learn best practices.
"We wanted to bring together a variety of groups, labs, and sites that are doing work in augmented and virtual reality space and learn from each other about our successes and failures," Williams said.
Machelle Sumner, GSAT senior program manager and symposium organizer, agreed with Williams.
An XR Symposium attendee tries out an AR headset.
"The XR Symposium gave us an opportunity to strengthen our collaborations with our partners and with the National Security Enterprise (NSE) to continue moving us into the future. With the first building complete at ORETTC, the team is ready to hit the ground running and put this technology to use," said Sumner.
Representatives from HaptX demonstrated haptic glove technology, which is already being used at ORETTC. This technology is also at the center of new glovebox training being developed for future courses at the facility.
Haptic gloves enable users to feel the virtual environment instead of just seeing it. The sensation of touch adds that extra piece of reality to the training environment.
"The use of HaptX gloves in virtual training environments provides the user with the ability to build muscle memory, both mentally and physically," said ORETTC Instruction Technology Lead Austin Arnwine.
HaptX was one of several groups to demonstrate its technology. Avrio Analytics brought its immersive AR training platform, designed for high-risk, low-occurrence scenarios. The company has used it to develop single-player drills and exercises and multiplayer tabletop exercises for response training at ORETTC. The University of Central Florida discussed its work on digital twins, which involves creating a digital representation of a building that a user can walk through and explore using AR/VR technology. Again, this form of technology is a facilitative tool when training for high-hazard situations.
Keynote speaker Mark Sage, executive director of Augmented Reality for Enterprise Alliance, shared the bottom line: "AR and VR have the potential to improve safety, increase productivity, lower costs, and enable knowledge to be shared more easily across the NSE."
ORETTC is a large part of the future Sage describes and a future both Stowe and Williams want to see grow.
"These XR technologies, while powerful, are toys unless we apply them correctly. Everything we do at ORETTC funnels technology through an educational lens so that we are using the correct technology in the correct way at the correct time to achieve the learning outcome we desire for our customers," said Stowe.
"Training using AR and VR technologies is happening, and I am excited to know we are helping to close the gap and leading the way in this area," Williams said.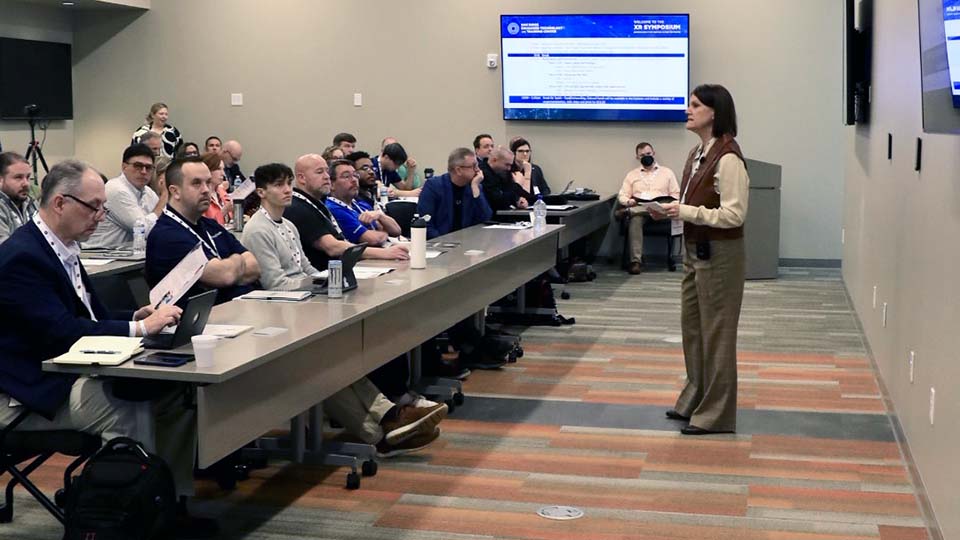 Machelle Sumner, Global Security Analysis and Training (GSAT) Senior Program Manager, kicks off the XR Symposium with a presentation in one of ORETTC's training classrooms.