Structural base slabs complete for MPB, MEB, SAB
Posted: Monday, May 20, 2019, 4:05 pm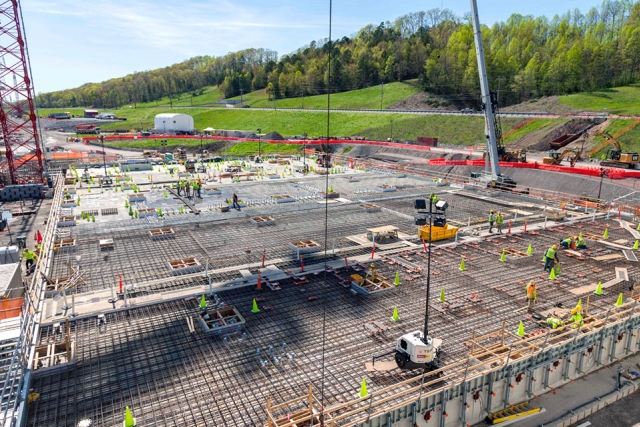 Concrete crews finish the base slab for the Salvage and Accountability Building. Placement of the topping slabs is underway.

The Uranium Processing Facility Project team achieved a key milestone by completing the base slabs for the three main buildings: the Mechanical Electrical Building, the Main Process Building, and most recently, the Salvage and Accountability Building. A total of 37,000 cubic yards of concrete was required for the structural base slabs. That's enough concrete to cover a football field nearly 24 feet deep, or as tall as a two-story building.
"Achieving this milestone was the result of a lot of hard work from everyone on the team," said SAB Deputy Area Lead Randy Holman. "They were focused on performing safely, doing it right the first time, and achieving the project milestones. With the completion of the base slabs, the team has positioned itself for future success."
Work at the SAB continues with installation of the topping slabs underway and structural steel erection beginning in May.
The MPB base slab was completed in February, and work continues with placement of rebar curtains.
The MEB base slab was completed in July 2018. MEB is forecast to be "in the dry" in May.