CNS gets it: There is no Planet B
Posted: Thursday, May 2, 2019, 4:33 pm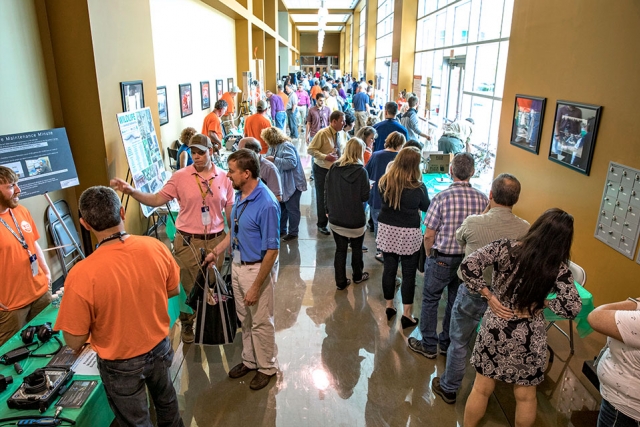 CNS celebrates Earth Day at Y-12 with speakers and activities for employees.

On April 18, CNS celebrated Earth Day at Y-12 with speakers and activities for employees. Internal and external organizations shared tips and ideas on becoming greener. The Tennessee Valley Authority Energy Right Program promoted energy conservation methods, the Tennessee Department of Forestry gave employees native trees for planting, and the A&W Supply, Inc./Clover Imaging Group promoted buying sustainable materials. Other attending organizations included Tennessee Wildlife Resources Agency, University of Tennessee Agricultural Extension, Smart Trips, and the Knoxville Electric Vehicle Association.
Y-12 booths included Environmental Compliance promoting Y-12's environmental policy, Environmental Sampling showcasing a typical monitoring well, and the Y-12 Fire Department highlighting spill response techniques and vehicles. The Energy Program, LiveWise, Predictive Maintenance, and the Uranium Processing Facility also participated.
In honor of Earth Day, the Pollution Prevention Program's Aluminum Beverage Can (ABC) committee chose the following organizations to receive a $200 donation. Monies are provided by recycling ABCs employees donate.
Disabled American Veterans Appalachian Chapter #105
Good Samaritan Center of Loudon County
Feral Feline Friends of East Tennessee
Kids First – Child Advocacy Center