Big savings result in big award from state
Posted: Wednesday, January 25, 2017, 9:53 am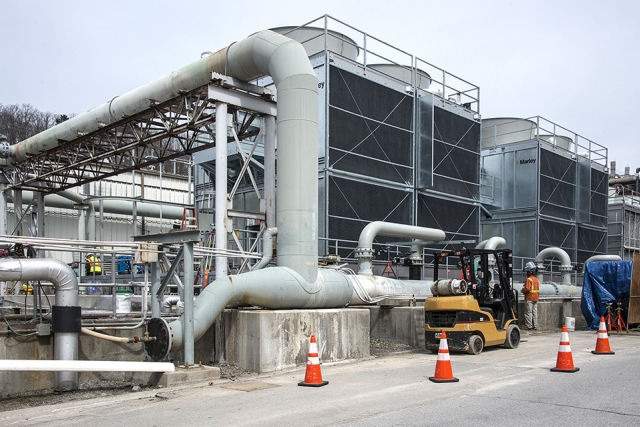 Y-12 has taken advantage of the energy-saving funding opportunities provided by Energy Savings Performance Contracts and has implemented diverse energy improvement projects, such as new high-efficiency cooling towers for the chiller plant.

The Tennessee Chamber of Commerce & Industry recently recognized the Y-12 National Security Complex with one of its Environment & Energy Awards. The site won the Comprehensive Energy Excellence Award for taking advantage of the opportunities provided by Energy Savings Performance Contracts (ESPC) and implementing diverse energy improvement projects.
"It is an honor to represent Y 12 and receive awards on behalf of the employees who work to make the recognition possible," said Y-12's Environmental Compliance Manager Stacey Loveless. "We are happy to share with others the green news we have at Y 12."
Y-12 has invested in three ESPC projects, including a steam decentralization project that removed some 21 buildings from the plant's steam distribution system and eliminated more than 3,000 feet of leaking lines. The lines were replaced with natural gas lines. This project is estimated to save almost 1.8 million kWh of electricity, some 170,000 MBtu of natural gas, 36 million gallons of water and more than $800,000 annually.
The second project involved the installation of high-efficiency cooling towers and chiller system upgrades. This project eliminates systems currently using R-22 refrigerant, and it supports infrastructure renewal and eliminates a significant amount of deferred maintenance. Completion of this project will save approximately 16 million kWh of electricity and $1.7 million annually.
A third project replaced or upgraded 37,800 lighting fixtures throughout the site. Existing fixtures were replaced with a combination of LED, long-life T-8, compact fluorescent lamps and other fixture types. Ballasts containing PCBs were replaced with new solid-state ballasts. This project will save more than 22 million kWh of electricity and almost $2.7 million annually.
"Our operations personnel continually look for changes they can implement to improve efficiency, and Y-12's programs and employees reach beyond the obvious when looking for ways we can improve the environment," said Loveless.