Defense Program Awards of Excellence: Y-12 Uranium Mission Strategy Team
Posted: Thursday, April 28, 2016, 1:43 pm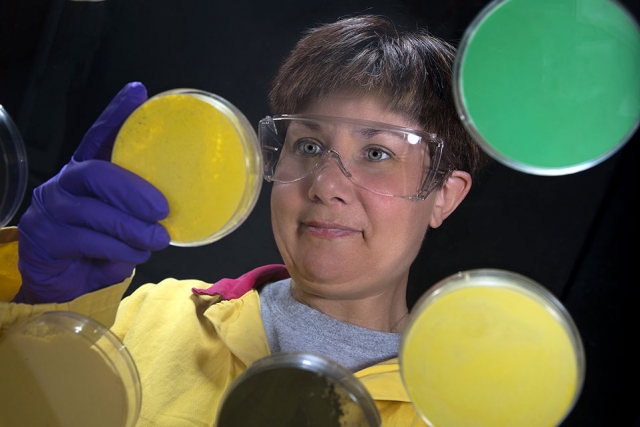 A Y‑12 lab technician examines some of the colorful aspects of uranium.

Making sure we can deliver enriched uranium for our missions is no easy task at a site with complex processes housed in facilities more than 70 years old. Buildings need to be maintained, and equipment replaced or repaired, all while operating safely to meet NNSA's mission needs for the weapons stockpile, naval reactors and other programs. Successfully coordinating these complex efforts into a workable plan won one group a Defense Programs Award of Excellence.
The Uranium Mission Strategy Team, which included 20 experts from both NNSA and Y‑12, created the plan to keep uranium operations going safely for many years. Figuring out the details of how it would all work was not a simple or an individual effort. The strategy maps out interrelated actions that must be worked over years, including a large construction project (the Uranium Processing Facility or UPF), process upgrades, process replacement projects, facility and infrastructure investments, and tasks to reduce safety hazards and inventory.
"Developing the strategy required a really diverse team, including people from Production, Programs, Engineering, Maintenance, Projects and UPF. Individual team members were supported by dozens of others from their organizations," said John Gertsen, Uranium Mission Transformation manager and UPF Operators' representative.
This diversity of expertise and support was necessary for success. The Enterprise's missions can't wait, so the team had to develop a way for Y‑12 to sustain critical operations while gradually moving out of Building 9212. The team based the strategy on four principles that would support this sustain‑and‑replace solution: reduce inventory and material at risk, or MAR; reinvest in some processes and relocate others; upgrade existing facilities and infrastructure; and build UPF.
"The strategy's built on reducing safety and mission risks," said Mona Glass, Enriched Uranium Mission Transformation, "while ensuring continuity."
Y‑12 was already moving toward this strategy in 2014 but received renewed encouragement that year with the Red Team's report on UPF and the appointment of Tim Driscoll as the NNSA Uranium Program manager. Driscoll also served on the Uranium Mission Strategy Team.
"This strategy has a lot of moving parts, and most of them are interrelated," Gertsen said. "We are processing and moving uranium to reduce risk, relocating key processes in other buildings, refurbishing those buildings, and building a new facility, all while continuing to deliver our production mission. We're talking about a lot of complex actions sequenced carefully over years."
By 2025, some Building 9212 operations will move to existing facilities (Buildings 9215 and 9204-2E), and the rest will be replaced by UPF. Replacement of capabilities in Buildings 9215, 9204-2E (Beta 2E) and 9995 (plant lab) is deferred for now. Investments in those facilities are planned instead. Eventually, they will be replaced in the 2040s. HEUMF will continue to provide long‑term storage and shipping of uranium materials.
Specific actions mapped in the strategy are underway. Some are in the early stages — the first moves to replace Building 9212 capabilities, for example, won't be completed until 2025 — but already show progress. "The MAR inventory in Area 5 has been reduced, some process relocation projects, such as 2MeV radiography, are starting earlier and reducing cost by consolidating with other upgrade projects," Gertsen said. "UPF is moving ahead, and we're placing even greater emphasis on technology investments to reduce time to maturity."
The Uranium Missions Strategy is an important part of NNSA's efforts "to reduce the risks of facility and process equipment failure that would affect our employees and impact our missions," Gertsen said. "We're planning for the long term."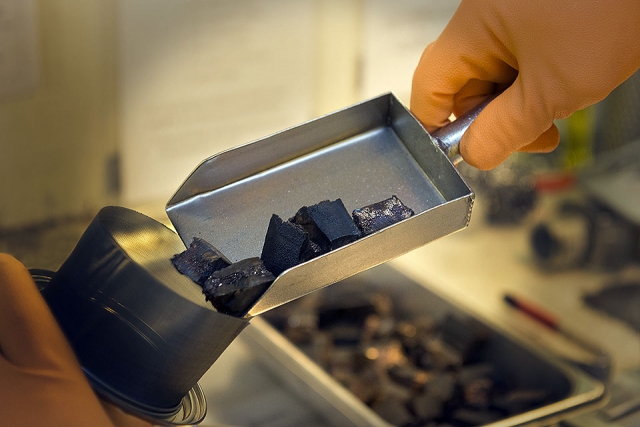 Recovering uranium helps ensure an effective stockpile and is a key element of Y‑12's weapons work.