Taking care of 'Biz'ness with Junior Achievement
Posted: Tuesday, December 13, 2016, 12:17 pm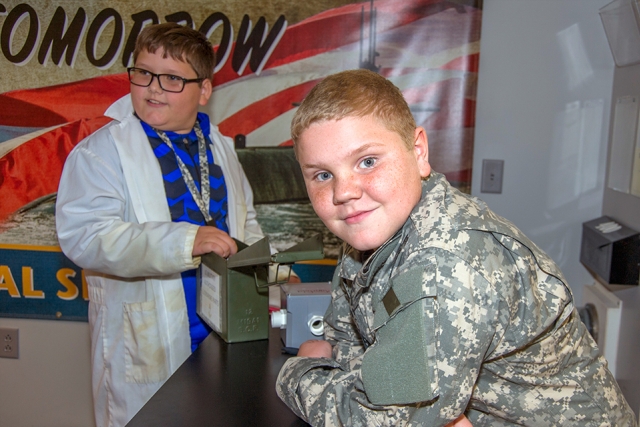 Students from Fairview Elementary in Scott County work in the Y-12 storefront during the recent grand opening at Junior Achievement of East Tennessee BizTown.

Consolidated Nuclear Security, LLC (CNS) officials were on hand, along with students from Scott County's Fairview Elementary School, for the opening of JA BizTown's newest resident, CNS. CNS and the Atomic Trades and Labor Council worked together with Junior Achievement to create a shop that mirrors the Y‑12 mission.
"Much like our work environment at Y‑12, we have designed the CNS BizTown business to reflect all the parties involved in successfully fulfilling a mission," said Bill Tindal, Y‑12 site manager. "From the CEO to the Protective Force officers to the engineers and trade skills, it takes everyone working together to get the job done, and we hope this BizTown storefront helps young people learn about incorporating teamwork to safely and securely achieve their mission."
JA BizTown gives young students the opportunity to be part of a community, interview for jobs, work in groups, run a business, and even be mayor. Fourth grader A. J. McCloud was elected mayor of BizTown and read a proclamation officially declaring: "Y‑12 National Security Complex is OPEN for business!"
"It's great to see young people learning entrepreneurship and getting a hands‑on chance to put what they've learned into action," said Tom Hayden, CNS senior director for Safeguards and Security and a JA of East Tennessee board member.
JA BizTown was established in 2008. Since then, more than 50,000 East Tennessee children have had the chance to be citizens and participate in the activities.