Race to the finish line
Posted: Thursday, May 2, 2019, 4:27 pm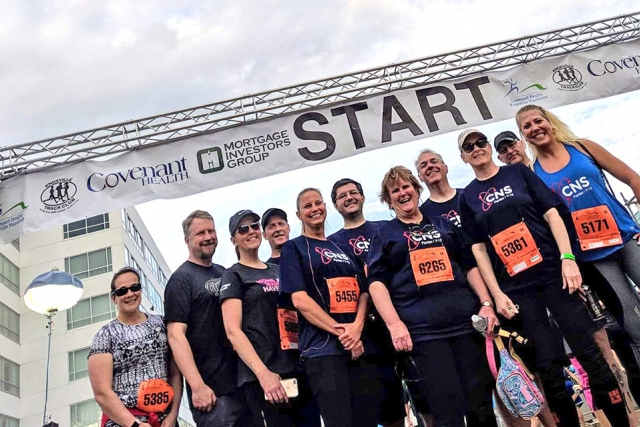 CNS runners at the start of the Knoxville Covenant Health Marathon.

More than 100 CNS employees were among the thousands of runners who took part in 5K, Half, Relay, and Marathon races at this year's Covenant Health Knoxville Marathon.
"It was the most people we've ever had at the Knoxville Marathon and the most we've had in any race," said Karen Lacey, Y-12 health and wellness supervisor. "A few CNS folks ran their first marathons, and others set their personal best times at their races. It was a great showing for CNS."
CNS encourages its employees to take part in races by paying the runners' registration fees. For the Knoxville Marathon those fees can be expensive. Depending on the race, the fees ran from a high of $65 for the full marathon to $25 to run the 5K.
"We want our employees to get active and get connected. We feel covering registration fees helps that effort," said Lacey.
She said in addition to running events, CNS has also paid the registration fees for cycling events, triathlons, bowling tournaments, skiing, and golf tournaments.
Also on hand at the Knoxville Covenant Health Marathon was Y-12 Site Manager Bill Tindal, his wife Karen, and a dozen CNS volunteers. Each year, CNS sponsors the bag check for runners. Managing a marathon involving thousands of runners is a massive undertaking for organizers and for runners.
"It's one less thing that a runner has to worry about when they start their race. And besides, making sure a runner's valuables are safe and secure is a service I think makes sense for CNS to provide," said Tindal. "It's what we do every day at Y-12."