The UPF team is taking the Main Process Building to the next level
Posted: Monday, December 9, 2019, 3:59 pm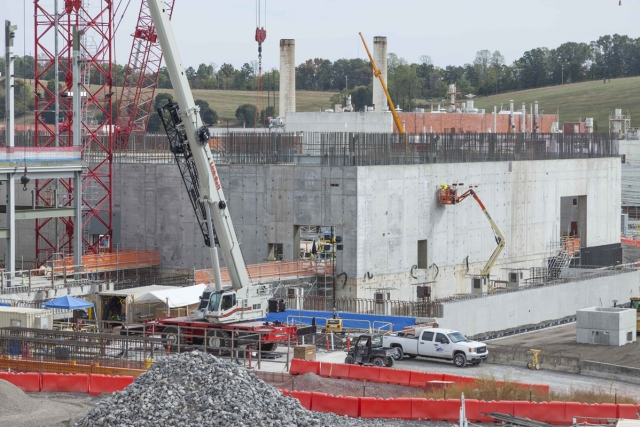 The construction team has completed the first level walls of the Uranium Processing Facility Main Process Building.

Transformation at the Uranium Processing Facility Main Process Building (MPB) has accelerated in the past few months. First level walls are complete, structural steel is going up in the east and west halves, and preparation is underway for second level concrete placements.
"There's been a lot of progress at the Main Process Building recently," said MPB Area Manager Matt Nuckols. "We have great construction crews out there, and they're working hard to keep pace with our schedule. We're going to continue this momentum through the end of this calendar year and push hard to get the building ready for equipment installation next year."
UPF carpenters from local union 50 in Oak Ridge, Tennessee, celebrated completion of the first level walls in October. The detail work required for the 28 wall sections was a challenge, and the team will use those lessons learned in planning for placement of the 28- to 54-feet walls for the next level of the building.
Pace is picking up with installation of structural steel in the east and west halves of the building. Keeping materials close and ensuring crane availability has helped drive momentum. Skilled craft employees are placing steel columns that weigh 20 tons each. Work on the east side started first, so ironworkers there are busy installing rebar, embeds, and penetrations to prepare for concrete placements.
"Structural steel is the gateway to upper decking concrete," Nuckols said. "The crew is really getting after it, knowing our objective is to place the east side second level floor this year."
The first upper decking concrete placement is scheduled for early November, starting on the far east side. A total of five placements, all with bottom and top rebar layers, are required for each side of the MPB.
Moving beyond construction, the MPB team will start receiving and installing upper commodities, like fire protection headers and cable tray, in the next few months. Equipment deliveries, like process skids and gloveboxes, will start arriving in the spring.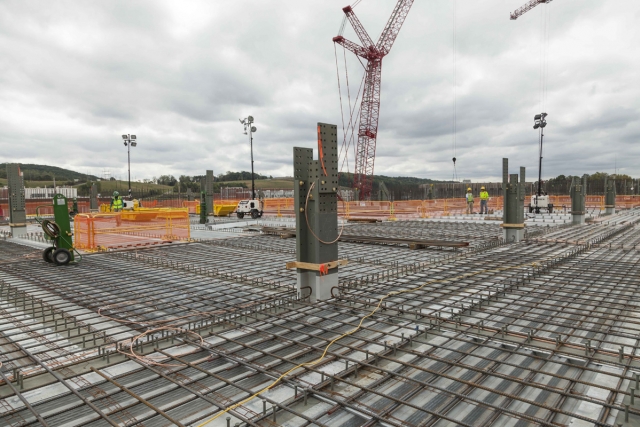 Rebar, embeds, and penetrations are installed on the second level of the Uranium Processing Facility Main Process Building to prepare for upper deck concrete placements.