Crane project soars at Y-12
Posted: Thursday, August 18, 2022, 9:38 am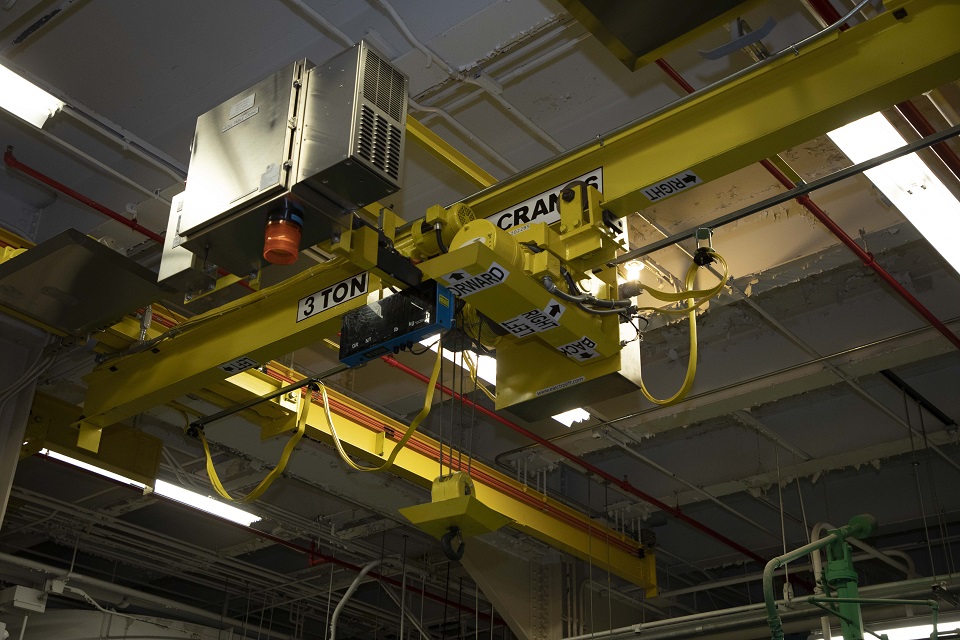 One of two new cranes that will assist in the rolling and forming processes for depleted uranium.
Some workers at Y-12 now have a safer work environment thanks to the installation of two cranes. Y-12 Project Management and Construction completed the project in just three months, six months ahead of schedule.
The new cranes support depleted uranium forming and rolling. A salt bath crane, which travels north to south, is used to remove billets from a salt bath to the rolling mill, where they are flattened into pancake shapes. A load table crane, which moves from east to west, transfers billets to and from the salt bath crane. Both have remote controls, which make them safer to operate, and are equipped with digital scales to weigh hoisted material.
"The old cranes were unreliable and way past their useful life expectancy," said Rodney Howard of Production Projects.
To add the new cranes, the team learned from the installation of an older argon-pit crane.
"They're all similar cranes—bridge-type cranes," said Construction Manager Billy Hurst. "With the first one we installed years ago, we ran into some issues with the mechanical portions of the crane itself. Because we used some of those lessons learned from that, we did not have any installation change requests. We didn't have anything that got in the way. We were able to use those lessons learned on the first one toward these two we installed. That mitigated a lot of things that could've gone wrong."
The lessons learned help facilitate "rigging for the demolition of the old crane and installation of the new one," Hurst continued. "We installed lifting lugs above the cranes to the existing building structure, enabling us to accomplish the demolition and installation without having to build extensive cribbing or other rigging configurations. It also helped in relation to the crane stops and some bolt installation. We had to reconfigure with new bolt fasteners that didn't protrude and obstruct the crane movement and travel."
Most projects encounter more than a few bumps on the road to completion. It was a relatively easy path for this one.
"It was near perfect in regards to design effort, procurement of the cranes, and all that comes into play," Hurst said. "They fit up perfectly when we put them in place on the existing crane rails. Sometimes you have to adjust for different measurements, but these were spot on."
Hurst believes this experience can be used as a blueprint for future endeavors.
"Granted, these are not really huge projects, but it's just rare that you ever have a project without hiccups," he said. "I guess we did the right stuff, and we documented it. We are able to pull out that documentation and use it in the planning process for any other installation."
Properly disposing of the old cranes and railings also addressed a safety concern with lead-based paint, which would flake off.
"People don't realize the challenge of the waste disposition," Hurst said. "You have to drain the oil. It has to be treated differently. Then some components have contamination, and others have to be segregated out and go a different path. Craft and laborers had to dispose of it and get it loaded, positioned right in containers so they're balanced, and ready to be shipped."
Hurst credits the success of the project to a team effort.
"It's craft, the project manager, the construction manager, the superintendent, field engineers," he said. "It was a good team. Plus, we did it safely without any injuries or incidents."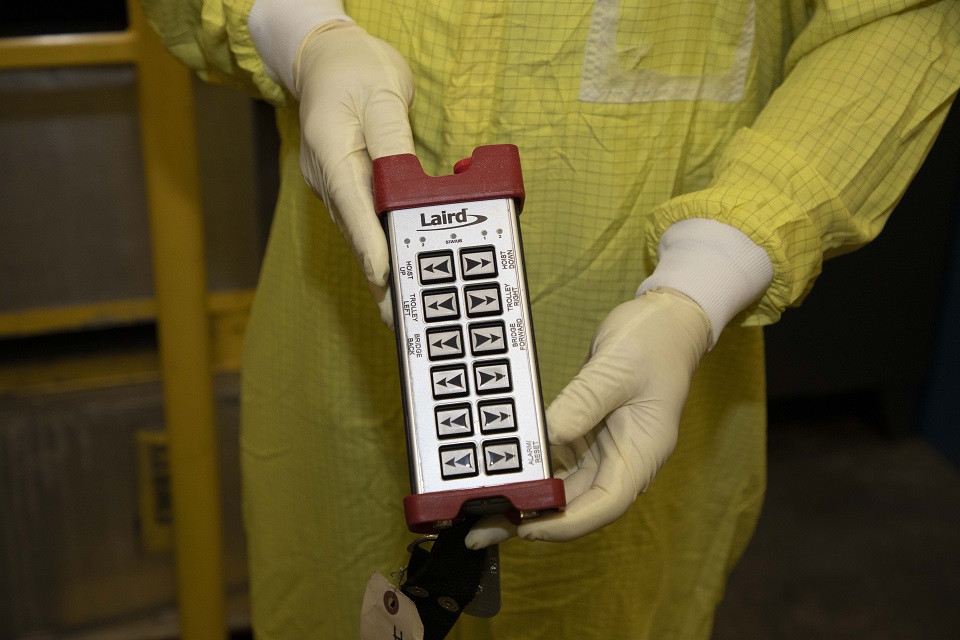 Remote controls allow the machines to be operated from safe locations.