Vendor-managed inventory project saves time and money by bringing the store home
Posted: Wednesday, August 29, 2018, 11:41 am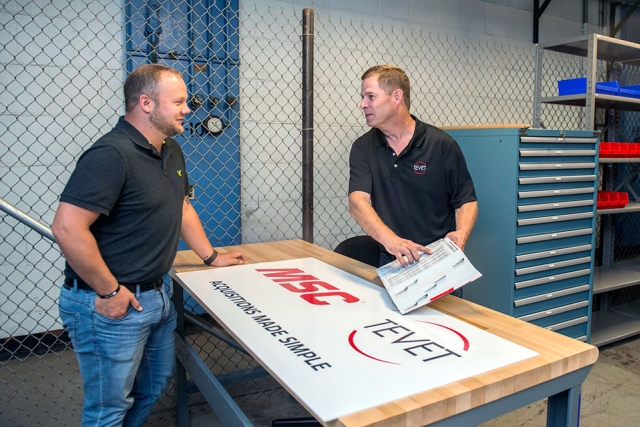 Y-12 Procurement Coordinator Derek Raby, left, and Dennis Lorick of onsite vendor Tevet discuss some of the items that will be available at the new tool crib and parts station.

The way parts and materials will be ordered, handled, and distributed at Pantex and Y-12 is changing—instead of going out to get parts and tools from a vendor, the vendor is coming to us, and it's not costing us anything—in fact, it's saving taxpayer dollars.
Known as vendor-managed inventory, the concept basically brings the supplier and materials to the point of use, similar to having an on site storefront. It was piloted at the new John C. Drummond Center at Pantex where a catalog of 10,000 office supplies was reduced to 1,000 approved items that are delivered directly to the employee. Until the items are delivered to the worker, they are owned and managed by the supplier.
The savings come from bulk ordering, reducing redundant ordering by various departments as well as more costly emergency ordering. CNS does not own or pay for materials until they are issued to a work order or end user. The small business provider will manage the materials and ensure stock levels are maintained.
Once the tool crib station at Y-12 is up and running, a second station will be opened. Both the office supplies and the tool crib/parts models will eventually expand to include both sites.