Preparing to meet the challenge
Posted: Thursday, August 29, 2019, 2:41 pm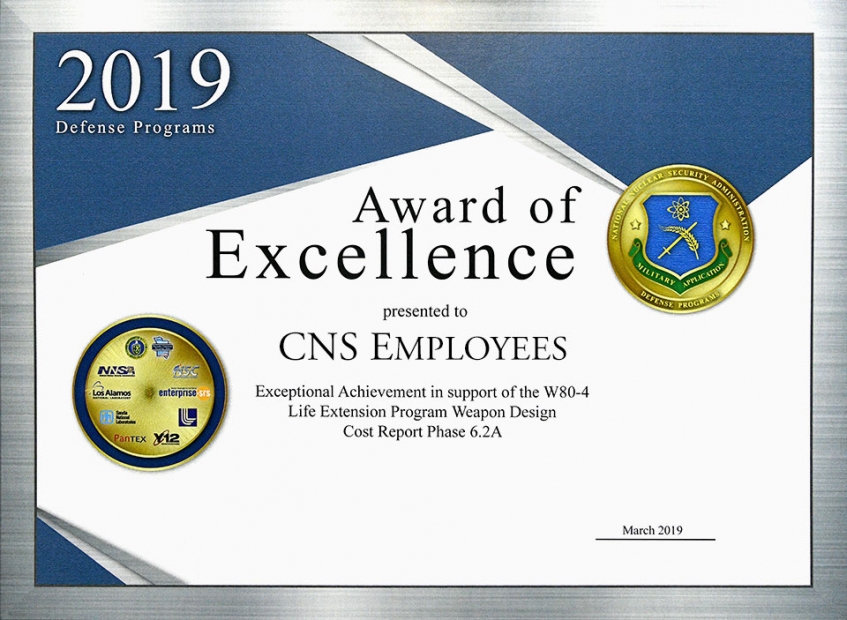 Members of the CNS W80-4 Life Extension Program recently received an NNSA Defense Programs Award of Excellence.

It's a busy time in the modernization world at Pantex and Y-12 as employees continue working on the B61-12, W88 Alt 370 and W80-4. The W80-4 Life Extension Program (LEP), is a long-range standoff cruise missile that will be used by the U.S. Air Force in the bomber leg of the nuclear triad. Pantexans and Y-12ers are working to refurbish, reuse or replace the warheads' nuclear and non-nuclear components to extend the service life of the warhead for an additional 30 years while improving its safety, effectiveness, and security.
This level of work has not been seen across the Nuclear Security Enterprise in more than 30 years and will require close coordination and integration with all involved to effectively and efficiently ensure all milestones and deliverables are met.
The Pantex team is working to produce, formulate, and qualify two new insensitive high explosive material streams for the LEP. To meet this challenge, they are working with Lawrence Livermore National Laboratory and Holston Army Ammunition Plant to develop and qualify new IHE material.
Working with older infrastructure and tooling is another challenge for both Pantex and Y-12. The legacy tooling was not designed to the tighter assembly, so that requires all of the tooling supporting operations on this program to be re-designed, prototyped and put in place.
At Y-12, they are appreciating a new approach the nuclear design agency has taken to meeting design requirements. Previously, Y-12 had to rely on reused and partially rebuilt components as there are significant challenges in making all new components. However, the design agency, Lawrence Livermore National Laboratory, is simplifying where possible, taking advantage of additional reuse opportunities, and working as a real partner to minimize burdens on existing Y-12 capabilities.
There have been challenges with this LEP, such as compressing the schedule by two years, but there have also been successes. Those successes earned the Pantex and Y-12 W80-4 teams an NNSA Defense Programs Award of Excellence.
Obviously, working on three LEPs at one time will present competing priorities and challenges for Pantex and Y-12. With teams like these, the sites are well positioned to be more efficient. It is imperative because the nation requires it.