CNS funds veteran and active military treatment program in East Tennessee
Posted: Tuesday, December 13, 2016, 12:06 pm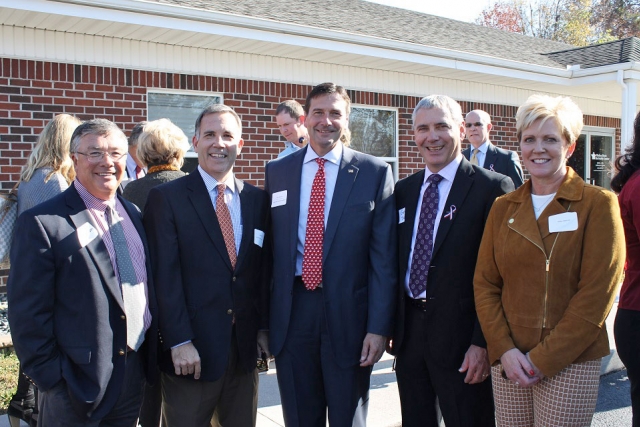 Left to right: Consolidated Nuclear Security's Gene Patterson, Jason Bohne, and Gene Sievers join Mitch Steenrod (center) and Debby Steenrod to celebrate the opening of the new behavioral care treatment facility for veterans and active military at the Helen Ross McNabb Center.

Representatives of Consolidated Nuclear Security, LLC (CNS), officials with Helen Ross McNabb Center (HRMC) and others took part in the opening of a new behavioral care treatment facility, which fills gaps in services for veterans and active military members in East Tennessee.
CNS donated funds to support development and operation of the Helen Ross McNabb Military Services Facility. The Helen Ross McNabb Foundation and Mitch and Debby Steenrod also provided funds to ensure the continuity of services through this program.
"We thank Consolidated Nuclear Security for its generosity and compassion for veterans in our community," said Houston Smelcer, vice president of Development and Government Relations for the Helen Ross McNabb Foundation.
Under the new program, the Center will collaborate with the Veterans Administration to identify individuals who are experiencing mental health and/or substance abuse disorders and get them
individual and family therapy.
"We aim to serve those who have courageously served our country to guarantee they have access to the resources and support they need to continue healthy and purposeful living," said Jerry Vagnier, HRMC president and chief executive officer.
Highly trained master's-level clinicians will be employed to provide treatment services. Clinicians will be certified through the National Council for Behavioral Health as "veteran behavioral health providers."
The services will include counseling, couples counseling, and family counseling for those experiencing mental health issues, including post-traumatic stress, anxiety, and depression.
These services will be available to any service member, spouse, or family—regardless of his or her discharge status or length of service in any branch of the armed forces—and will be provided at no cost.
"Without the support of organizations like CNS, we could not provide this vital service to our area veterans," Smelcer said.
"Veterans' issues are a major focus of CNS, which employs many veterans at Y-12 in Oak Ridge and Pantex in Amarillo, Texas," said Jason Bohne, senior director of CNS Communications and Public Affairs. "CNS is honored to assist veterans and active military whose service helps keep America free." he added.
CNS's support of the treatment program is part of an ongoing partnership with HRMC and its effort to meet the unique needs of those "who served." In 2015, CNS provided funding for the Center's Veterans Housing project.