New paper disintegrator supports site security and sustainability
Posted: Tuesday, November 6, 2018, 5:34 pm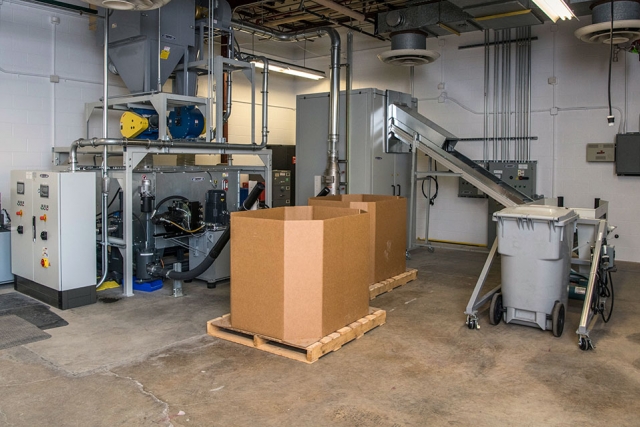 With Y12's new paper disintegrator, all of the site's sensitive and nonsensitive paper will be disintegrated onsite.

Y-12 recently completed installation and startup testing of a new dual-stage paper disintegrator to better support site information security and sustainability practices. Now, 100 percent of Y-12's sensitive and nonsensitive office paper is disintegrated on-site and available for recycling into compressed paper products.
Processing this paper on site reduces potential security risks. "The new disintegrator allows for expanded control of unclassified workrelated paper, ensuring all paper is properly destroyed," said Marcia Baird, manager of Information Security.
Moreover, the new disintegrator system produces paper briquettes to be used by off-site recycling vendors to make compressed paper products, such as egg cartons. "Our old disintegrator cut paper into such small pieces that the paper fibers weren't long enough to go through the recycling process," said Jan Jackson, program manager for Sustainability and Stewardship. "The new dual-stage disintegrator system first shreds, then fine cuts paper, and finally compresses the disintegrated paper into recyclable briquettes."
Y-12's new disintegrator replaces equipment that had exceeded its design life and was no longer a reliable, cost-efficient option. The new disintegrator will process more than 300,000 pounds of paper annually, nearly doubling the quantity previously processed on-site.