Y‑12 rooftop project goes above and beyond
Posted: Wednesday, January 25, 2017, 9:55 am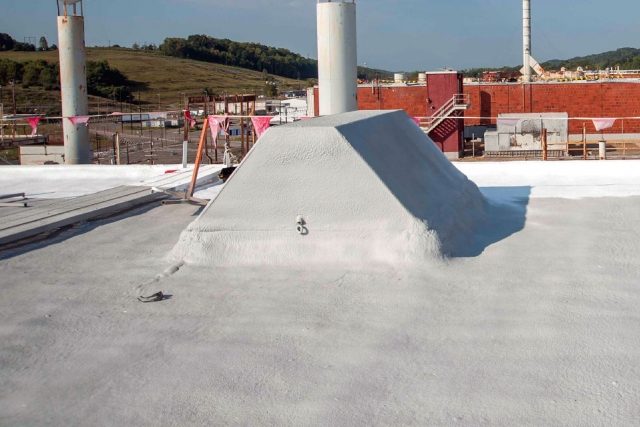 Significant prep work was required to seal and frame penetrations at Building Alpha‑5, but the new commercial foam roofing material will result in a significant reduction in facility flooding and water leakage.

A project to install new foam roofs on a trio of excess facilities at Y-12 was recently completed ahead of schedule and under budget, but project officials didn't stop there.
Initially tasked with re-roofing 280,500-square-feet of roofs on Buildings Alpha-5, Beta-4, and 9206, the project was expanded to include new foam roofs for Buildings 9720-22 and 9768, further protecting Y-12 facilities by preventing leaks, sealing penetrations, stopping the roofs from deteriorating, and protecting the environment.
"We finished ahead of schedule and under budget, and also got new roofs on more buildings that need protecting," said David Lind, the project manager on the roof replacement projects.
Construction and roofing crews wrapped up the $21 million project in mid-October, a month ahead of schedule and about $2.5 million under budget, even with the addition of Buildings 9720-22 and 9768 — shuttered support buildings for Beta-4 and 9206, respectively. The additional roofing work brought the total coverage to over 300,000 square feet.
Lind emphasized that the project was truly a team effort. The contract was awarded under the National Nuclear Security Administration's (NNSA's) Roof Asset Management Program to Indiana-based Insulated Roofing Contractors, but CNS's construction management and direct-hire support team helped remove equipment and debris from the roofs and handled all of the extensive hoisting and rigging for the project.
Safway Services erected a 74-foot scaffold stair tower providing better access to the roof and allowing more efficient monitoring of uncleared workers. Consolidated Nuclear Security (CNS) Physical Security also worked closely with the project team to better utilize Q-cleared escorts according to building and construction equipment configurations.
"A lot of planning and hard work from a large cross-section of CNS and NNSA organizations is what created this success story," Lind said.
The new roofs are made of two-to-four inches of polyurethane foam with an elastomeric coating that creates a complete membrane to prevent leaks. They are designed to keep water out of the facilities, (Buildings 9206 and 9768 are still in production use) and maintain electrical systems connected to other areas of Y-12 remain in the facilities.
The buildings will eventually be transferred to the Office of Environmental Management and torn down, but a significant amount of work goes into removing hazards from the facilities before they're turned over to the Office of Environmental Management.
"Taking a $21 million project from planning through completion in just nine months shows our customer how much we can achieve, and it's good to know these buildings are protected," Lind said.