From camping in the woods to the final frontier
Posted: Monday, July 15, 2019, 5:42 pm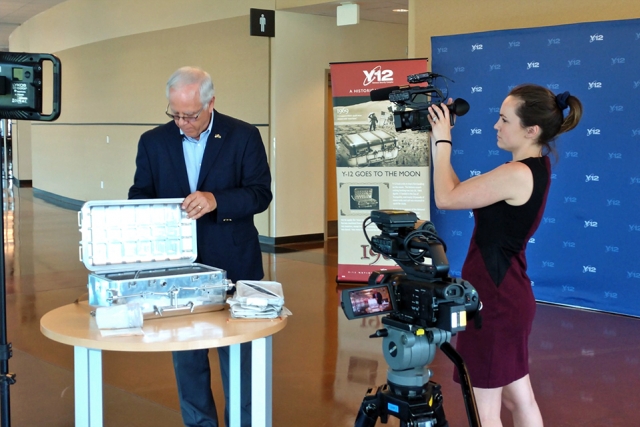 Paul Wasilko shows Emily DeVoe of WBIR one of the moon boxes built at Y-12 for the Apollo missions.

"The biggest benefit of Apollo was the inspiration it gave to a growing generation to get into science and aerospace." – Buzz Aldrin, Lunar Module Pilot, Apollo 11
Who didn't once dream of being an astronaut in the 1960's? Paul Wasilko of Program Integration certainly did. In fact, he was quite disappointed to be attending the annual Boy Scout Jamboree in Idaho with 34,000 other scouts in July 1969 when the moon landing was going to occur.
Paul did get to see the moon landing … with narration by astronaut Frank Borman and a special greeting from astronaut and fellow Eagle Scout Neil Armstrong live from the moon. The scout who watched that moon landing now has his own tie to Apollo 11 history—sharing how Y-12 played an important role in that mission 50 years ago.
In 1967, Y-12 produced 16 moon boxes, or Apollo Lunar Sample Return Containers, for NASA to safely handle the lunar material. It also provided support to the design of the Lunar Receiving Laboratory to process the samples brought back from the moon.
The moon boxes were not the first collaboration with NASA. A few years earlier, Y-12 built blood sample containers for Gemini as part of a study to determine if space flights adversely affected human blood. (Spoiler alert: It doesn't.) That project, which was known as Blood in Gemini, was the start of a beneficial partnership between the agencies.
As we reflect on the past, it's always good to look forward. Today, our partnership with NASA is focused on fueling the next space mission through demonstrations like KRUSTY (Kilopower Reactor Using Stirling TechnologY) or nuclear thermal propulsion. Morris Hassler and Chris Robinson of Global Security and Strategic Partnerships are leading Y-12's work in those areas.
From past to present and future, a WBIR special airing on Tuesday, July 16, will celebrate the 50th anniversary of Apollo 11, including the role Oak Ridge and Y-12 played and continues to play in exploring the final frontier. Be sure to tune in on Tuesday. You might see some familiar faces.