Career ONE engineers pay it forward
Posted: Tuesday, May 2, 2017, 1:39 pm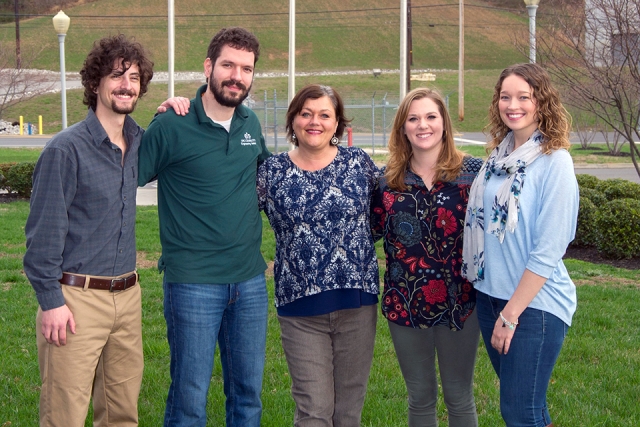 Engineering & Science Senior Manager Rebecca Boser (center) with Career ONE participants Joe McVeigh, Matthew Willard, Meredith Manning, and Sarah Cruise.

Sarah Cruise certainly has made the most of her first two years with Consolidated Nuclear Security. She's worked rotations in engineering design, special processing, and Development — not to mention a three-month stint at Pantex as a process engineer.
For Cruise and other new hires in Mission Engineering at Y-12, the Career Opportunities for New Engineers (Career ONE) program has been a way to explore different career paths and meet new people.
When Cruise started in the Career ONE program, she was the only female in the class, and she wanted to find "a strong female role model." With the support of program lead Mike Ellis, Cruise reached out to Rebecca Boser, senior manager, Engineering & Science.
"We connected initially because we're both chemical engineers with MBAs," Cruise said. "We began meeting for lunch, and she would introduce me to other female engineers in Development and on the west end, as well as people close to my age. She was open to any questions I had."
During her job rotations, Cruise gained perspective from her engineering colleagues on the types of work performed in different areas. When the time came to decide where she wanted to work permanently, Cruise looked to Boser for advice.
"I was glad to have found someone who had been where I am and where I may want to go," said Cruise, who now has a permanent position in Development and a new role in Career ONE — mentoring other new hires.
Meredith Manning, who joined Y-12 a year ago, said, "Sarah has been super helpful. I met her on my first day, and she introduced me to people and showed me around. She helped me get my feet wet." As Manning completes her final rotation, the two still keep up with each other. "Sarah continues to be a good resource if I have questions," she said.
As Cruise and Manning's experiences prove, Career ONE's success lies in people helping people.
"In Career ONE, we typically match engineers who have been through the program with those just coming in," Ellis said. "They haven't forgotten the questions and concerns that they had as a new employee, so they can help address them, but they also have gained enough experience to be able to address more technical questions and issues that a new hire may have."