How one work crew floated an idea and got it green-lighted
Posted: Tuesday, October 13, 2020, 11:46 am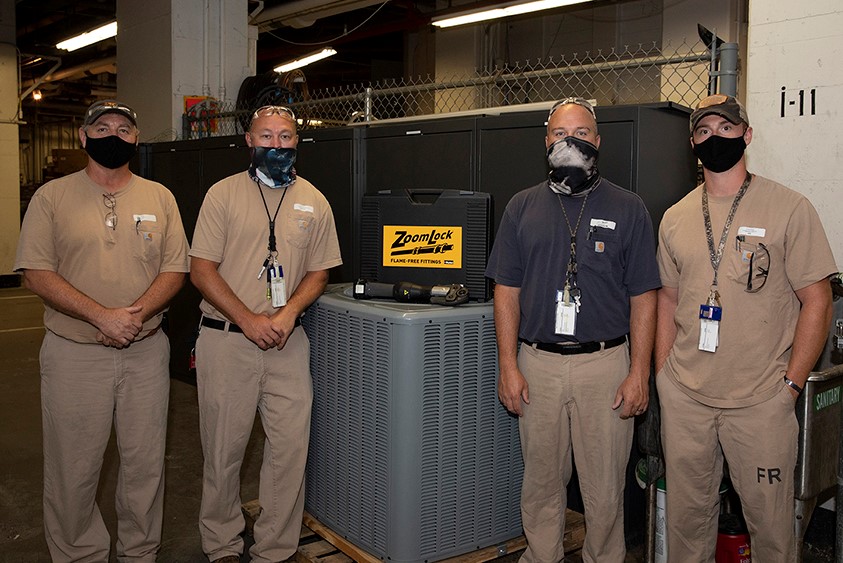 Y-12 air condition and refrigeration mechanics, from left, stand beside the crimping tool (on top of an air conditioning unit) that allows the team to work more safely and efficiently.
Where do the best ideas come from? At Y-12, they often spring from the "voice from the floor," from those who are closest to the work.
The site's air condition and refrigeration mechanics recently came up with a safer, more efficient way for routinely applying a fitting to a copper pipe, a task the AC&R crew often perform when installing, repairing, and maintaining refrigerant lines and humidity control systems.
The usual method for fusing the metal includes a brazing torch, which involves lots of paperwork and preplanning (analysis of job hazards, a "hot work" permit, a fire watch on standby) and donning sometimes bulky personal protective joining equipment (fire retardant clothing, leather gloves).
"We have to sand and prep the fitting and pipe, make sure all flammable and combustible materials are at a safe distance, and have our fire extinguisher and fire watch person with us," explained mechanic A. Chittum. "We use a light torch to heat up the area we are brazing and braze the fitting on the pipe and then let it cool. For just one fitting, this task can take about five minutes, depending on pipe size and location."
Chittum and the rest of the AC&R crew knew of a better way to accomplish most fusing jobs: a flame-free, off-the-shelf crimping tool to create a seal. Though not suitable for every application at the site, the tool can be used in areas where it can be difficult to obtain a burn permit (such as the Destruction and Recycle Facility with its high paper content and dust) or where a burn permit cannot be issued (storage areas with highly flammable materials).
"Using the tool, it takes eight seconds to crimp the fitting on the pipe with no cool down period and with a lot less preplanning and PPE and fewer hazards," said mechanic M. Carter.
The crew presented their idea to Infrastructure's Proactive Safety Team, led by Scott Underwood, senior director of Y-12 Infrastructure. The team, which aims to prevent injuries before they occur, reviewed and readily approved the mechanics' idea. Within two months, the crew were using the new tool.
"Our management supported our idea from the very beginning," said mechanic M. Owens. "We all felt that this device would enhance our ability to perform our work and provide better protection. Technology is always changing. The more we introduce it to our everyday tasks, the more efficient and safer we become."
B. Williams, section manager of Balance of Plant maintenance work activities, said he was proud of the AC&R crew for applying the latest technology to their work.
"This technology saves time, money, and makes Y-12 safer for both the crew and the facilities where they are working," Williams said. "The crew's effort displays the serious approach Infrastructure is taking to better support our on site customers and Y-12's mission."
Infrastructure's Linda Fiore, team lead for the Proactive Safety Team, echoed Williams' sentiments.
"We can always reply on the vast experience, knowledge, and skill sets of our bargaining unit employees to come up with ideas and best practices to help create a safer, more productive work environment."