Investing in our sustainable future: Buying 'green'
Posted: Wednesday, July 18, 2018, 10:29 am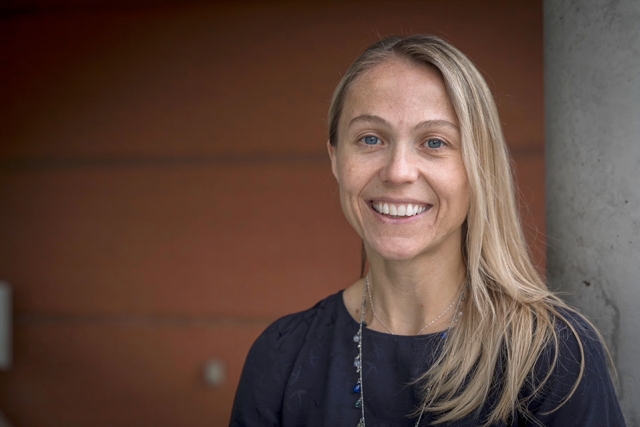 Sherith Colverson works with employees to buy sustainable and biobased products and services.

How often do you think about the items you purchase and use daily — everything from paper to coffee to cleaning supplies? Where do they come from? How are they made? Are they good for the environment?
The Department of Energy's Sustainable Acquisition Program is committed to "green purchasing," giving preference to products that are energy and water efficient, made from biobased or recycled content, are nontoxic or less toxic than conventional alternatives, release nonozone depleting chemicals, and support the overall use of alternative fuels and fuel efficient products.
A broader focus
Pantex and Y-12 are recognized across the Nuclear Security Enterprise as sustainability champions. Now the company is poised for broader efforts at both sites to evaluate purchases to ensure they meet or exceed federally required sustainability criteria.
"We do a significant amount of recycling our different materials streams to keep them from becoming waste streams," said Sherith Colverson of Sustainability and Stewardship Programs. "Now, we're going to take the next step. My focus will be on helping organizations purchase green products to begin with."
Colverson's role is to provide oversight and assistance to CNS employees, which includes interpreting and implementing all facets of DOE's Sustainable Acquisition Program. She will help organizations comply with Environmental Protection Agency and U.S. Department of Agriculture requirements as well as Executive Order 13834.
"The Sustainable Acquisition Program simply ensures that our federal government leads by example in protecting the health of our shared environment and reducing environmental impact through the purchase of sustainable products, as well as services," Colverson said. "It is an activity that spans all organizations. It is part of our contracts, cafeteria service, construction and remodeling of buildings, custodial operations, vehicle fleet, grounds and facility maintenance, operations and office environments, and information technology."
Biobased products
One of the ways CNS can lead by example is by purchasing biobased products. Biobased products are derived from plants and other renewable agricultural, marine, and forestry materials and provide an alternative to conventional petroleum derived products. Products include lubricants, cleaning agents, inks, fertilizers, and bioplastics. Some of these products, such as hand soaps and hand sanitizers, are already used throughout Pantex and Y-12.
"I look forward to learning more about how both sites are operating, building, and providing maintenance with current products," Colverson said. "I'm here to work with all organizations to find those sustainable and biobased products or services that could potentially help increase efficiency, optimize performance, reduce environmental impacts, and cut costs."