Visit to Y-12 a real eye-opener for crew of USS Tennessee
Posted: Monday, July 25, 2016, 5:00 pm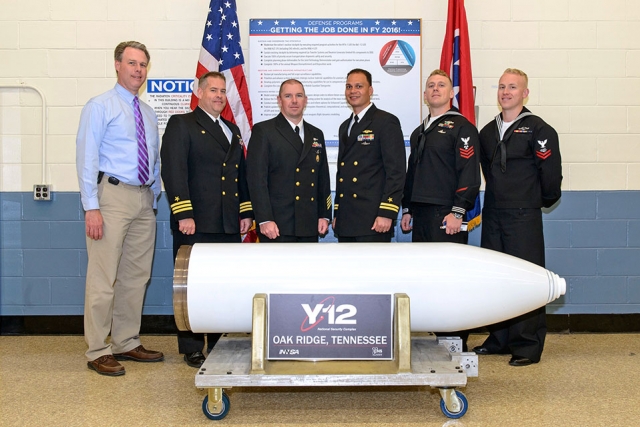 Director of Assembly/Disassembly Operations Abe Mathews (left) gives the USS Tennessee sailors a behind the scenes look at Y-12.

When the USS Tennessee patrols the world's oceans, stealthily submerged to depths unknown, the Ohio Class ballistic missile submarine is capable of carrying a payload of Trident II missiles tipped with W76 or W88 warheads.
The crewmembers — and the nation — have come to accept the steadfast reliability of those warheads that are produced as a result of work at Y-12, Pantex and elsewhere across the Nuclear Security Enterprise, but during a recent visit to Oak Ridge, five USS Tennessee sailors got a first hand look at exactly what goes into ensuring the safety, security and effectiveness of the nation's nuclear arsenal.
"It gave us an appreciation of the infrastructure that is there to enable this capability for us to go out and perform our mission," said the USS Tennessee's Commanding Officer Chas McLenithan.
It was the first trip to Y-12 for McLenithan and four others.
While in Knoxville for Navy Week, they made a special visit to Oak Ridge National Laboratory and Y-12, touring a production facility and the Highly Enriched Uranium Materials Facility. Joining McLenithan was Lt. Colin Williams, the submarine's assistant weapons officer, as well as Master Chief Stacy R. Hammann, First Class Petty Officer Bryan Lynch and Second Class Petty Officer Merlin Hyland.
During the tour, they were briefed on assembly and disassembly operations at Y-12 and saw where the nation's highly enriched uranium is stored. With the importance of the nuclear deterrent as significant as it was decades ago, they emerged with a message that reinforced the credibility of U.S. nuclear arsenal.
"It definitely gave me a newfound appreciation for this part of the mission," Williams said. "You do the same processes day in and day out, but you see all these patriotic people doing their job and doing it well. Everyone was very energetic and so enthused about what they did, explaining their processes to us as the end user. It was a great experience to talk to them and to say you guys make a great product. We know we can always count on them."
Williams added, "What we saw was pretty amazing stuff, stuff you don't get to see in your everyday job. Us being the end user, it definitely stood out in my mind."
Their submarine may bear the name Tennessee, but what was tucked in the hills of Oak Ridge was still a revelation.
"The amount of generations that have built up the capability they have there, the initial developers and the maintainers now, and the technical ability that goes into that and is still invested in keeping us able to do our mission was a real eye opener," McLenithan said.