CNS sponsors LEGO® Boot Camp
Posted: Wednesday, October 26, 2016, 2:27 pm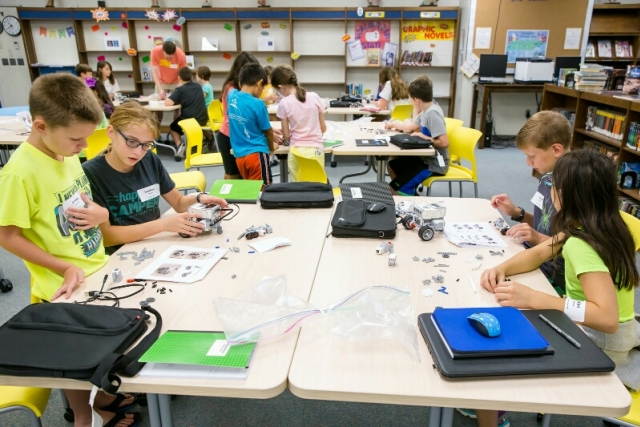 Students at Jefferson Middle School in Oak Ridge, Tennessee, create robots as part of the CNS-sponsored EV3 MINDSTORMS® Boot Camp.

Training minds one LEGO® at a time might seem a bit far-fetched, but at Jefferson Middle School in Oak Ridge, Tenn., that's essentially the goal. During the summer, 25 of its students went through a series of problem-solving exercises and, using LEGOs, created robots for competition.
The students were part of the school's EV3 MINDSTORMS® Boot Camp—a camp designed to stretch the minds of the youngsters while learning the basics of programming and design. The boot camp prepared the students for the FIRST® LEGO League season.
FIRST, "For Inspiration and Recognition of Science and Technology," teamed with LEGO group to form the league, which challenges young people to research real-world problems and find solutions. They go on to design, build and program a robot using LEGO MINDSTORMS technology and compete on a tabletop playing field.
The boot camp was funded through the CNS Y-12 Community Investment Fund. A committee of Y-12 employees makes recommendations for distribution of funds.
"Thank you so much for the grant," said Jane Shanafield, a teacher at Jefferson Middle School. "Because of your generosity, we were able to host the EV3 MINDSTORMS Boot Camp this summer and will now be able to compete in the FIRST LEGO League," she added.
The CNS Y-12 Community Investment Fund is a partnership with the East Tennessee Foundation. For more information, go to http://www.easttennesseefoundation.org.