Veterans find closure on CNS-sponsored HonorAir trip
Posted: Monday, September 19, 2016, 4:08 pm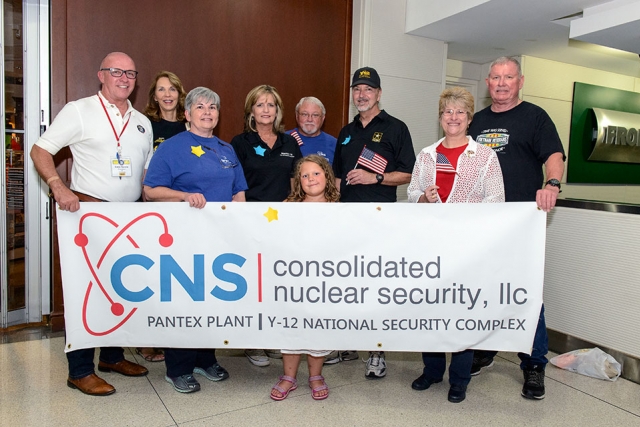 Vietnam veteran Ralph Adcox (far right) is happy to see his fellow veterans get a chance to have closure.

It was a good night when 73 year old Daniel Campbell finally got a solid night's rest. For years, his sleep was interrupted by images nearly half a century old — images of death and horror in Vietnam.
"I lost my best friend in Vietnam," Campbell said. "And I was wounded, too. For years afterward, I couldn't sleep because I kept seeing those images. They were terrible."
Now, Campbell said, things have changed, and they changed because of a trip he took with fellow Vietnam veterans on HonorAir Knoxville. HonorAir has flown more than 2800 East Tennessee veterans, at no cost to them, to Washington, D.C., to see the memorials built to honor their sacrifices.
"I was able to find my friend on the Vietnam War Memorial wall," he said. He traced his friend's name to paper and now has that keepsake. He also has another new memory. One that he says brought closure to his Vietnam experience.
"The reception at McGhee Tyson Airport," said Campbell. "It was the most amazing thing I've ever witnessed in my life. It brought tears to my eyes and closure to my heart to see all those people waving American flags and thanking me for my service."
Among those in the crowd was first timer Ralph Adcox of Safety & Industrial Hygiene. Adcox was with other Y-12 workers who regularly attend these homecomings.
Adcox has extra motivation to be there. He is a former Vietnam veteran and recalls the political turmoil and protests over the war in the 1960s.
"As a veteran, I felt it was important that fellow Vietnam vets get the long deserved 'welcome home' they did not get upon returning from their deployment," said Adcox.
The trip and reception home was emotional for Campbell, and Adcox said it was emotional for him.
"Some of us enlisted, and some were drafted. Regardless, all of us took an oath and served the call of our country to the best of our ability," Adcox said. "Being in a hostile zone requires the respect and support for our fellow soldier, sailor, airman, marine, and coast guardsman to survive. All those branches of the military were represented in the welcome home celebration, and I am proud to have taken part."
HonorAir Knoxville was one of 30 non profit organizations that received a Y-12 Community Investment Fund grant this year.