UPF team marches in honor of fallen soldiers
Posted: Wednesday, May 25, 2016, 4:38 pm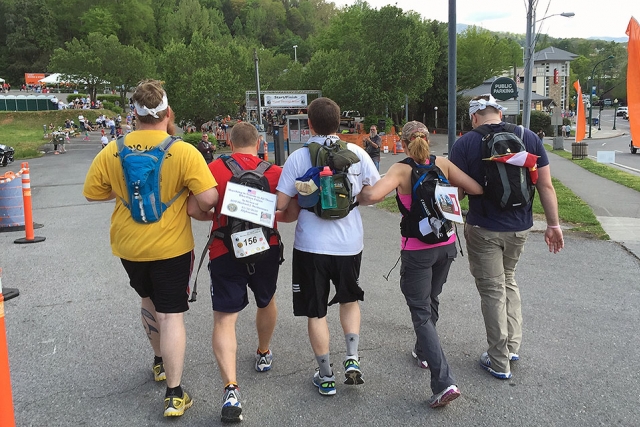 UPF's five-person team won the Team Civilian Light Full March award for completing a relay in under eight hours. From left: Jim Schumacher, Matt Crookshanks, Brad Kramer, Tina Sowers and Jamie Lesko at the finish line.

Nine UPF staff, including a combat veteran, honored fallen soldiers and their families by participating in the ninth annual Mountain Man Memorial March April 22‑23.
Participants in the event honor the sacrifices of fallen American service members and their families by walking 26.2 miles to simulate walking in service members' shoes. Proceeds provide scholarship grants to Gold Star family members and donations to the University of Tennessee Army and Air Force ROTC programs and the American Legion Post #2 in Knoxville.
UPF staff who participated were Joe Bucci, Jamie Lesko, David Tran, Matt Crookshanks, Jim Schumacher, Brad Kramer, Tina Sowers, Bill Sonnenburg and Noah Carlson. Five members of the team — Lesko, Crookshanks, Schumacher, Kramer and Sowers — won the Team Civilian Light Full March award for completing a relay in under eight hours.
Carlson, a U.S. Army combat veteran of the Iraq conflict, marched in honor of four soldiers he knew who died in Iraq in 2005: SPC Justin Blake Carter, SGT Monte S. Ruth, 1LT Michael J. Cleary and SPC Richard D. Naputi.
"I was honored to see so many people from the UPF project supporting the families of fallen soldiers," Carlson said.
The UPF group marched in honor of the Gold Star families of U.S. Army Sgt. Michael Joe Beckerman and Airman Nathaniel Henry McDavitt.
Established after World War I to provide support for mothers who lost sons or daughters in the war, membership in the Gold Star Mothers Club is open to any American woman whose child has died in the line of duty. The group provides emotional support to members, does volunteer work with veterans and veterans hospitals, and fosters patriotism and respect for members of the U.S. Armed Services.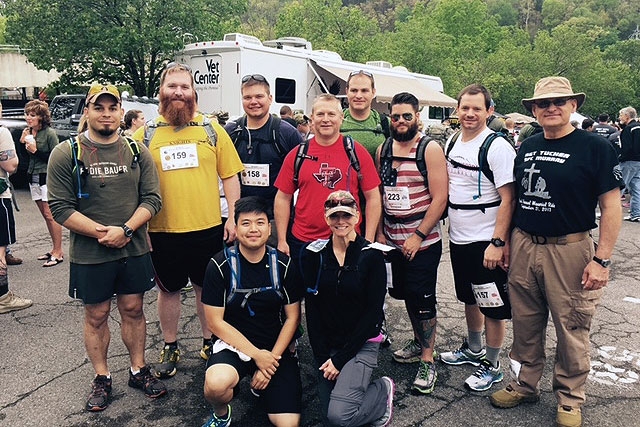 UPF team members (front row, from left) David Tran and Tina Sowers and (back row, from left) Noah Carlson, Jim Schumacher, Jamie Lesko, Matt Crookshanks, Bill Sonnenburg, Joe Bucci, Brad Kramer and Mike Lassiter.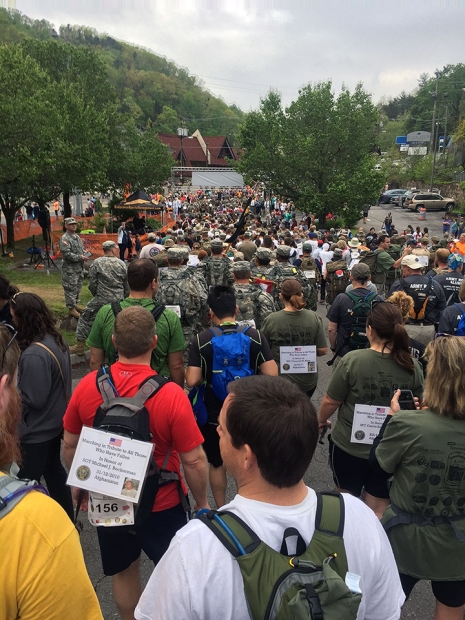 UPF team members wait to begin the Mountain Man Memorial March.